In October 2016, the Hardeman family sat down for a taping of "This Time Next Year" and made a bold promise. Over the next 12 months, the five of them — Mom Sandra, Dad Steven and boys Steven Jr., Sterling and Seth — would lose 450 pounds.
Then the residents of Triangle, Va., went out for a celebratory feast of fried chicken. That followed visits to In-N-Out Burger, Roscoe's Chicken and Waffles and Randy's Donuts, all Los Angeles spots they were determined to hit while in town.
Their restaurant itinerary was a marker of how "clueless" they were about the challenge they'd taken on, the Hardemans say now, and also of how much had to change.
This was a family that lived to eat. Vacations were planned around food, snacking was a constant activity and home life revolved around the kitchen table. Dinner might bring a spread of brisket, sausage, ribs, potato salad, macaroni and cheese, and collard greens cooked in pork fat, with buckets of sweet tea to wash it down and a dessert buffet including cookies, pound cake, apple pie, and bread pudding.
To them it never seemed like a problem, even with Steven Jr.'s weight nearing 400 pounds, Steven Sr. gobbling blood pressure meds and Sandra taking nightly insulin shots for diabetes.
"When the entire household is big you don't tend to see it as a problem. You think, this is just who we are," says Steven, 48, a retired law-enforcement officer. "And when you look around at others, everyone else is in the same place. It's the American condition and also the African-American condition."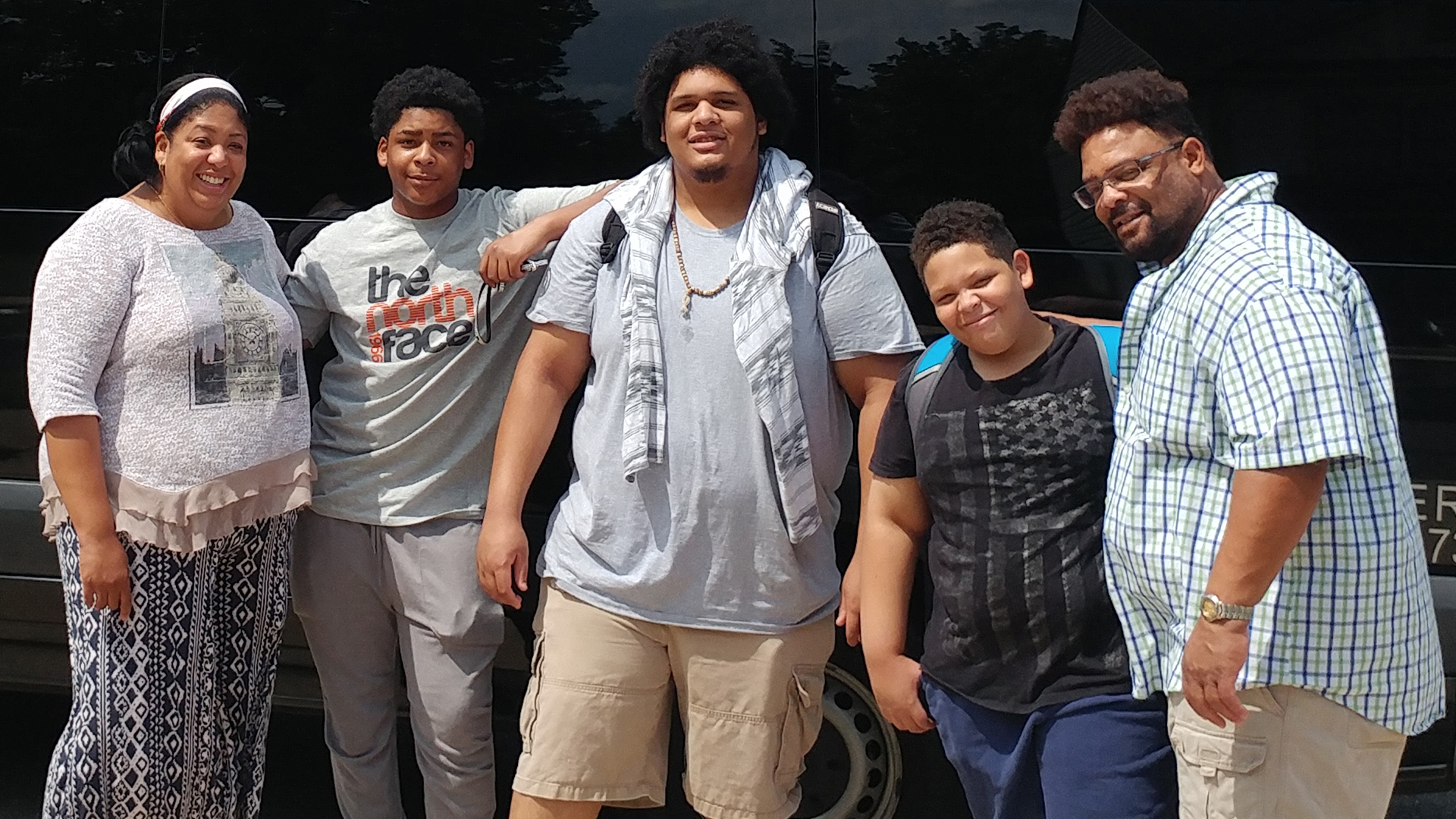 The Hardeman Family before losing weight
Changing that wasn't quick or easy. But they were bent on making a shift, a decision that had started with Sandra's health issues. Her diabetes would end if she lost weight, her doctor told her, so she decided on gastric bypass surgery, even if it felt like a bit of a copout. Then a question from her youngest son, Seth, stopped her in her tracks.
"He said Mommy, what's going to happen when you lose weight and we're still fat?" recalls Sandra, 47, a school administrator. "I broke down and started crying and we started having discussions about our health and changing the trajectory of our family." She decided against the surgery.
Soon they found themselves at the gym lined up on treadmills, sweating five in a row. And they started to change their diets, a gradual process. Out went their giant plates, replaced by smaller ones with reduced portions.
From pork fat to protein shakes
Then the nature of their diet started changing. Sweet tea became unsweetened and then water, whole milk became two percent and then unsweetened almond milk. They quit the desserts, eventually dumping out the family sugar bin. They turned to seafood, grilled chicken and protein shakes. They took a family trip to an organic market, planted an herb garden and started eating loads of vegetables, minus the pork fat. And they found that the more they cut back, the less they wanted the fat and sugar they'd once craved.
A key shift came on New Year's Day, some two months into their project. Virginia offers free admission to state parks that day, and they decided to bypass their usual holiday feast and take a hike instead.
"We enjoyed it, and we took that thought process and committed to it," said Sandra. The idea was to "change our mindset from sitting at the table for entertainment and find entertainment in the world around us."
In addition to inspiring them, the experience got them thinking as a unit, instead of five people with separate roadmaps. They began having family meetings, setting goals and writing them down on a sheet of butcher paper they tacked up by their dining table. "That's when we really started rolling as a family," says Steven Jr., a 21-year-old college junior.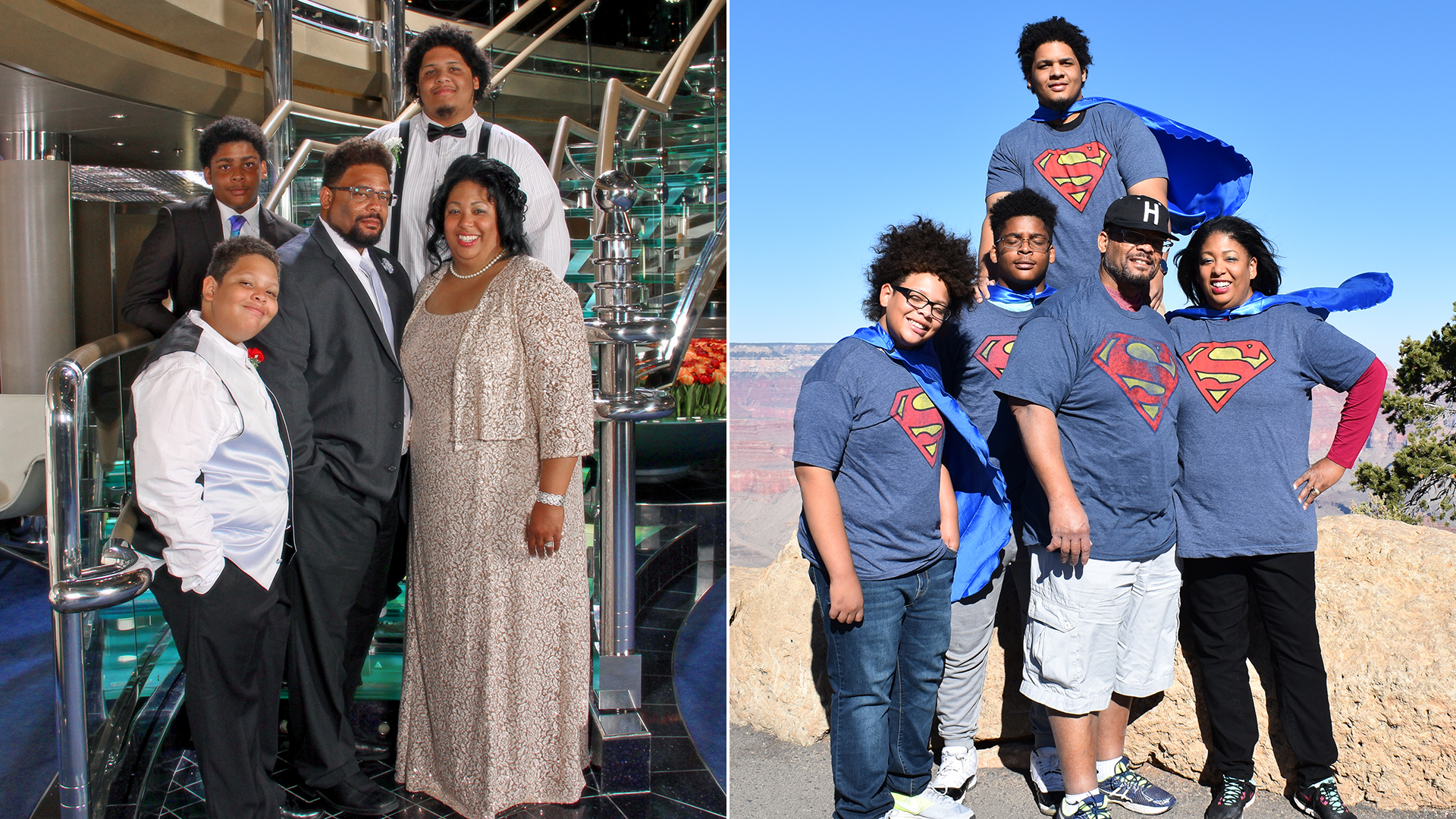 The Hardeman Family before and after losing more than 300 pounds collectively
Flying without seatbelt extenders
In the months that followed, they ran a 5K race. They went whitewater rafting and indoor skydiving. They took hikes and went camping. They went to Disney World, a trip memorable both because the boys were able to fit on all the rides and because nobody in the family needed a seatbelt extender on the flight down.
And the pounds came off. It wasn't always easy, but each of them had four others to keep them from going astray, even if the exchanges sometimes got heated. "Whenever we were falling short, there was always one of us who was willing to stand up and keep us on track, and who it was rotated," says Steven.
The results are striking. Steven lost 90 pounds. Sandra dropped 64 and went off insulin; middle son Sterling lost 17 pounds. Twelve-year-old Seth went from 205 to 165, and from being sedentary and withdrawn to winning the lead in the school play, excelling in gym and finding a girlfriend.
The transformation was no less profound for Steven Jr., who had long since resigned himself to a life of being overweight and diabetic. He shed over 100 pounds.
"It was about so much more than losing weight. It was about getting a second chance at living my life to the fullest," says Steven, who tears up when talking about being able to fit on a roller coaster again. "I started laying down the foundation for getting where I want to be."
Keeping it off
The goal now, he says, is "to treat every year like it's 'This Time Next Year.' " They're making plans – all written out on butcher paper — to hike the Appalachian Trail, to go to a dude ranch, to go deep sea diving, to camp in the Grand Canyon.
"The sky truly is the limit for us at this point," says Steven Jr. And, the Hardemans emphatically agree, what's made it possible is having each other to lean on and push each other forward.
"I found out through this process that my strength, my ability to achieve, my motivation, it comes from this family," says Sandra, who says they hope to serve as a model for other families. "When you have people who love and support you, it will push you further and harder than ever thought you could."
See more remarkable stories Tuesdays at 10/9c. Watch the Hardeman's episode here.