On May 8, 2010, Betty White became the oldest person to host "Saturday Night Live." At 88 1/2 years old, hosted she scored the gig after hundreds of thousands of her fans petitioned for her to host SNL via Facebook. The episode garnered SNL its highest overnight ratings in 18 months. She went on to win her seventh Emmy Award for her performance on the late-night show. Now at 96 years old, White has had the longest television career of any female entertainer. She recently shared her key to longevity: a positive outlook, as well as a love for hot dogs and vodka.
White was born Betty Marion White in Oak Park, IL on January 17, 1922, to an electrical engineer father and homemaker mother. The family moved to Beverly Hills, CA when White was two years old. In the early 1950s, she worked her way up to become one of the first female producers in Hollywood. Throughout the decade, she was a favorite guest on "The Tonight Show" and game shows like "Password." Then, in 1973, White had her big break as an actress, playing Sue Ann Nivens on "The Mary Tyler Moore Show." She won two Emmys for playing the two-faced "happy homemaker" on the show. White's next signature role was in 1986 as Rose Nylund on "The Golden Girls." In 1986, she won an Emmy for Outstanding Lead Actress in a Comedy Series for her portrayal of the naive and hilarious St. Olaf, MN native.
After the final season of "The Golden Girls" aired in 1992, White was a favorite guest star on many popular TV shows, including "Boston Legal." Then, in 2010, BWhite's appearance in a hilarious ad for Snickers during the Super Bowl inspired a 29-year-old fan to start a petition on Facebook, "Betty White to Host SNL (please?)!" By mid-March, hundreds of thousands of fans signed the online petition. SNL soon announced that White would host the Mother's Day episode.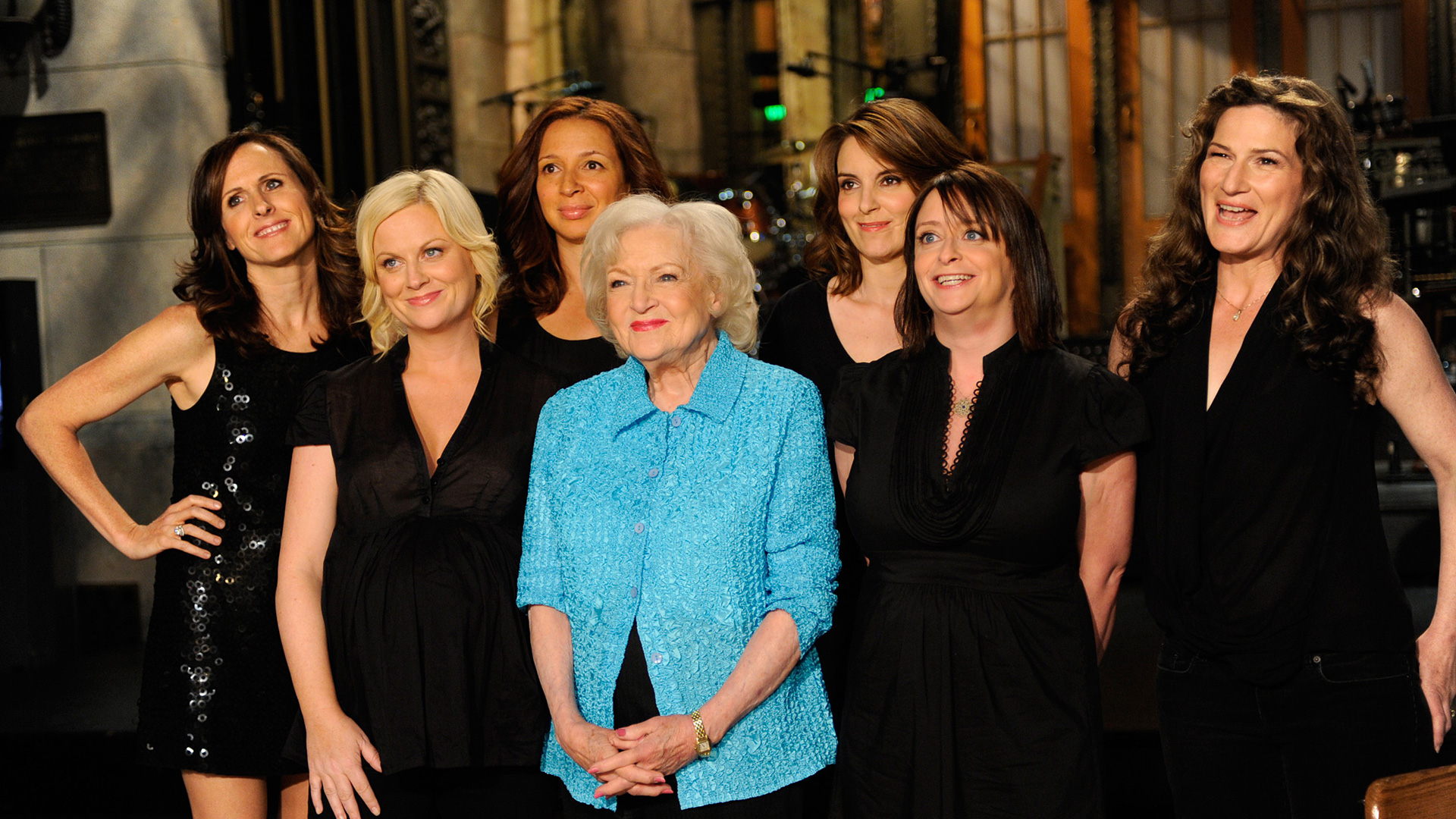 Photo: Dana Edelson/NBC/NBCU Photo Bank via Getty Images
In her opening monologue, she joked, "When I first heard about the campaign to get me to host "Saturday Night Live", I didn't know what Facebook was. And, now that I do know what it is, I have to say…it sounds like a HUGE waste of time. I would never say that people on it are losers…but that's only because I'm polite." To much laughter, she went on to joke about the social network: "Facebook just sounds like a drag. In my day, seeing pictures of people's vacations was considered a punishment." She appeared in hilarious skits alongside Tina Fey, Amy Poehler, Rachel Dratch, Maya Rudolph and Kristen Wiig. Molly Shannon and Ana Gasteyer resurrected their NPR spoof, The Delicious Dish. In the skit, Betty White plays Florence Dusty, "a little bit of a rock star of the confectionery world," who brings a platter of her famous muffins. A plethora of hilarious sexual innuendos about her dusty muffins ensued.
After the success of her SNL appearance, White returned to television to star in "Hot in Cleveland" alongside Valerie Bertinelli, Jane Leeves and Wendie Malick. In 2012, she hosted the TV show, "Betty White's Off Their Rockers," and celebrated her 90th birthday with an all-star television special. White is an inspiration, always blessing us with her positivity as well as her keen sense of comedy.