On January 22, 1997, Madeleine Albright became the first female United States Secretary of State. Appointed by President Bill Clinton, she was confirmed by the Senate and then sworn in the next day. She went on to serve in the position for four years, until January 20, 2001. During her tenure, she led America's post-Cold War foreign policy, while wearing her signature "statement pins" to playfully express her true thoughts on diplomatic proceedings. Still an outspoken voice in politics today, she helped pave the way for other women, like Condoleezza Rice and Hillary Clinton, to follow in her diplomatic footsteps.
Albright was born Marie Jean Korbel on May 15, 1937, in Prague, Czechoslovakia (current-day Czech Republic). Her father, Josef, had an important role in Czechoslovakia's Belgrade embassy. However, the family was forced to flee to England when the Nazis invaded in the 1940s. Although the family was able to return to their native land after the war, they were forced to escape again after a communist coup took over the government on February 25, 1948. They arrived in the United States on November 11, 1948, and settled in Denver,
CO. Like her father, Albright showed a strong aptitude in government and political science. After becoming a U.S. citizen in 1957, she earned a B.A. in political science, with honors, from Wellesley College in 1959. She went on to earn a PhD. in public law and government at Columbia University in 1976.
Albright spent the mid-1970s through the 1980s ramping up her political and foreign policy experience. After serving as the chief legislative assistant to Senator Edmund Muskie (1976-1978), she served as a staff member in the White House under President Jimmy Carter and on the National Security Council under National Security Adviser Zbigniew Brzezinski. Then, in 1982, she was appointed Research Professor of International Affairs at Georgetown University's School of Foreign Service and Director of its Women in Foreign Service Program.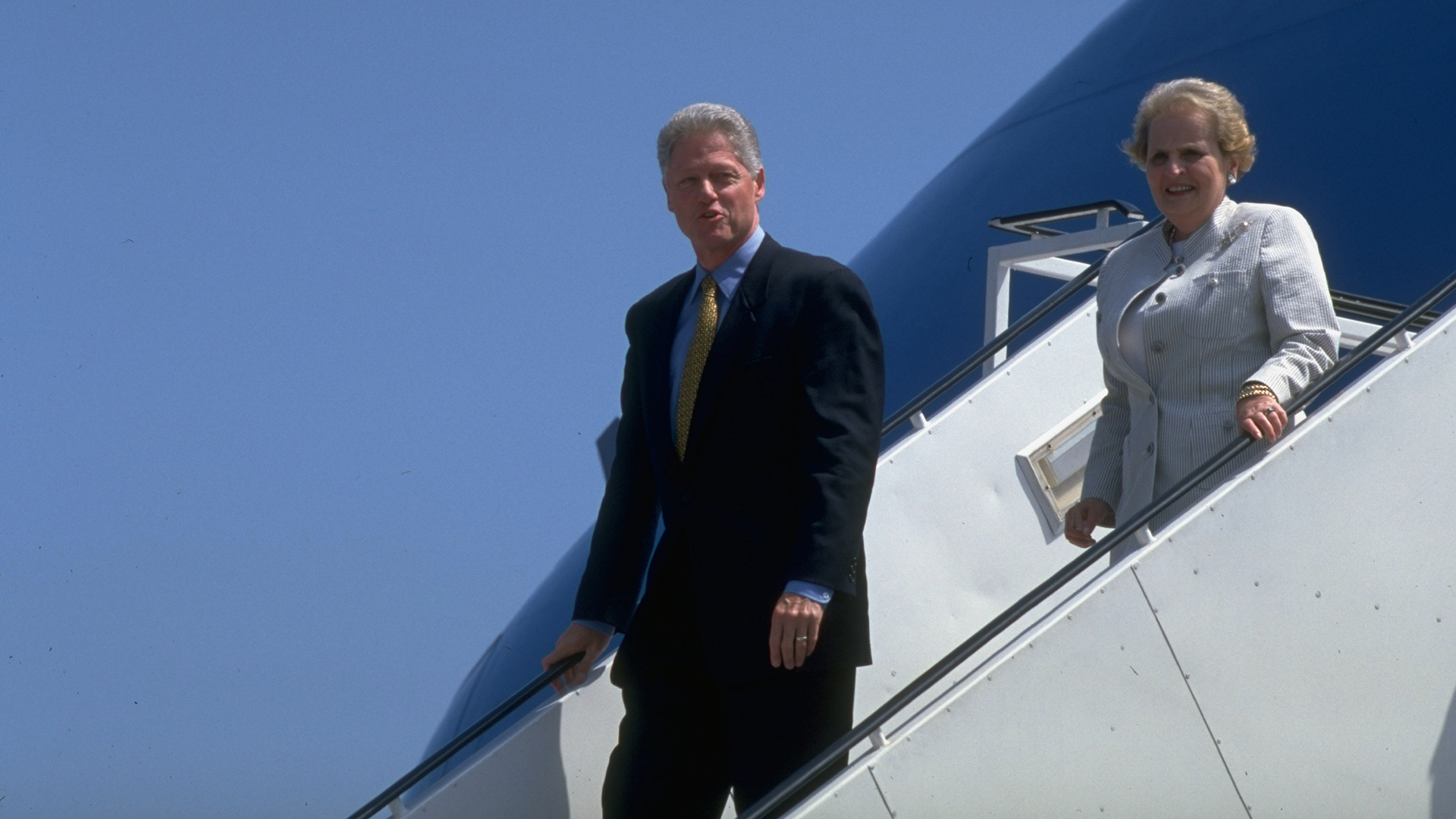 Photo: Cynthia Johnson/The LIFE Images Collection/Getty Images
When Bill Clinton became the 42nd President of the United States, he appointed Albright as the Ambassador to the United Nations in 1993. Although she was often the only woman in the room, Albright refused to sit silently and she boldly advocated for the United States at the UN. She served in this esteemed position until 1997, until she became the 64th Secretary of State. Of this history-making appointment, Albright shared her reaction in her 2003 memoir, "Madam Secretary": "It was almost… inconceivable that someone who had not held a government job until she was 39 years old and the mother of three would become the highest-ranking woman in American history. Well into adulthood, I was never supposed to be what I became." At the time of her appointment as Secretary of State, Albright was the highest-ranking woman in the history of the U.S. government.
As Secretary of State, Albright promoted post-Cold War American foreign policy. Among her many achievements, she pushed for the expansion of NATO into former Soviet bloc countries. Albright also successfully worked to prevent the proliferation of nuclear weapons
into rogue nations. Additionally, she encouraged NATO's military intervention to address the humanitarian crisis in Kosovo in 1999. In 2000, she made history as the first American Secretary of State to visit North Korea on a diplomatic visit.
Although infamous for her serious composure, as a diplomat Albright used her pins to communicate her mood and opinions. The tradition first started after she was compared to a serpent by the Iraqi media. In response, Albright wore a large golden snake brooch for her next meeting in Iraq. This sartorial jewelry statement became one of her trademarks. In 2009, two hundred of Albright's pins were displayed at the Museum of Arts and Design. Albright published a book, "Read My Pins: Stories from a Diplomat's Jewel Box," to accompany the exhibit. Of her signature accessory, she explained, "I found that jewelry had become part of my personal diplomatic arsenal." She added, "While President George H.W. Bush had been known for saying 'Read my lips,' I began urging colleagues and reporters to 'Read my pins.'"
Since leaving her Secretary of State post in 2001, Albright serves as the chair of Albright Stonebridge Group and as a professor of International Relations at Georgetown University's School of Foreign Service. In May 2012, she was awarded the Presidential Medal of Freedom by former President Barack Obama for her invaluable work in international relations.