On February 17, 1998, Team USA won the first Olympic gold medal in women's ice hockey by defeating Canada 3-1 in Nagano, Japan. The women's ice hockey teams from the United States and Canada have been rivals ever since. Since then, the United States has won three silver medals (2002, 2010, 2014) and one bronze medal (2006). Still reeling from a dramatic loss to Canada in the final round of the 2014 Sochi Olympic games, the two teams are currently facing off at the Winter Olympics in PyeongChang, South Korea, where Canada beat the USA in the preliminary match, 2-1.
At the 1998 Winter Olympics, the Canadian women's ice hockey team were four-time world champions and overwhelming favorites. Defying the odds, Team USA defeated Canada, 3-1, in the gold medal game. Gretchen Ulion and Shelley Looney scored for Team USA. Canada's Danielle Goyette made it 2-1 in the third period, but with time winding down, USA's Sandra Whyte added an empty-netter with eight seconds to play, clinching the game and the gold. Coach Ben Smith said of Team USA's win, "I knew those kids were great individual champions, but more importantly they were a championship team."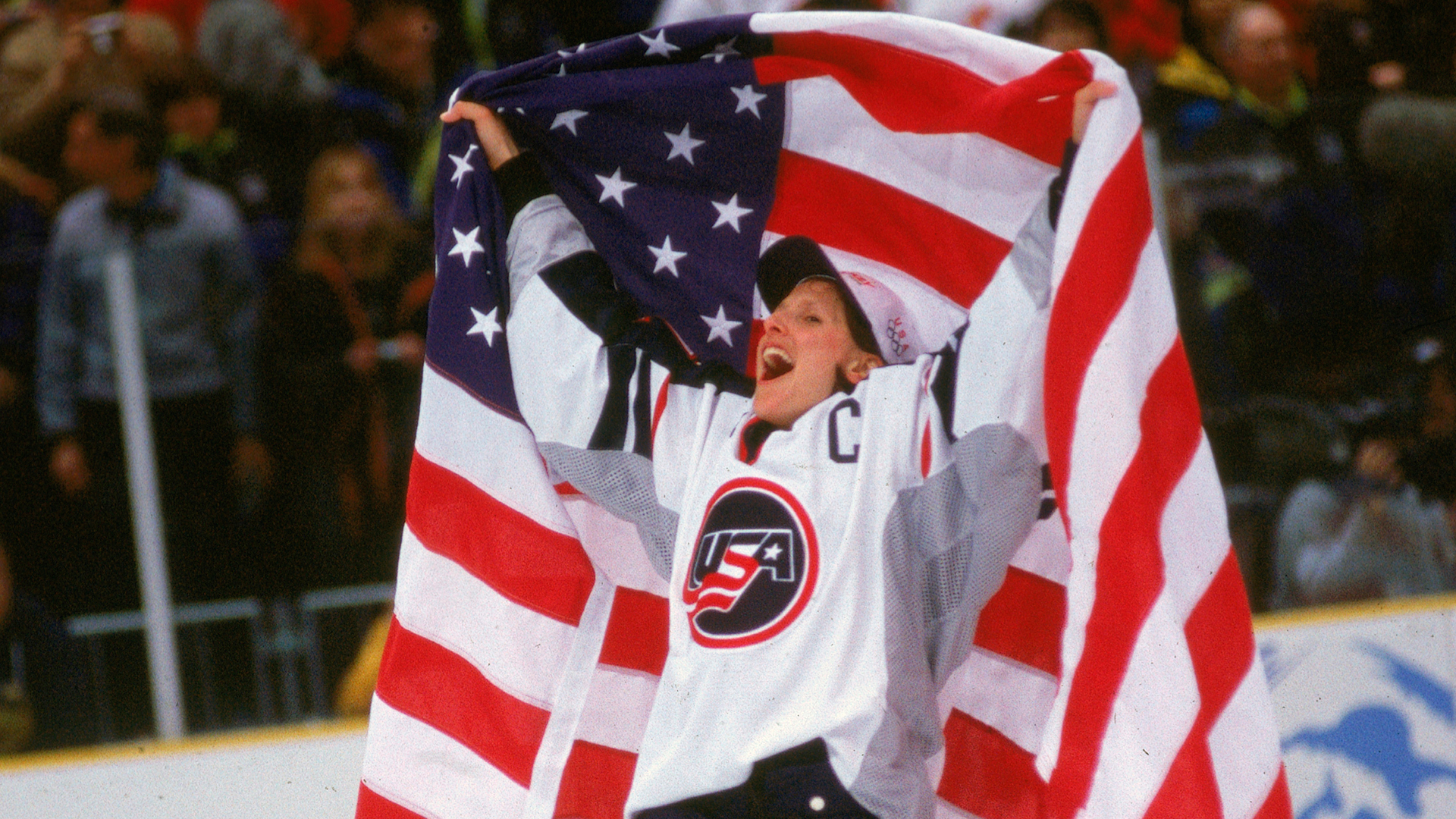 Photo: Bruce Bennett Studios/Getty Images
Before receiving their gold medals, the women's ice hockey team each waved American flags and extemporaneously held hands. Goalie Sarah Tueting has since reflected on the 1998 team's close bond that helped them win gold: "When I think about '98 all I feel is love and companionship about those people; to this day." Captain Cammi Granato described the overwhelming experience when she first felt the gold medal around her neck: "I wasn't ready for the weight of it. It was heavier than I ever anticipated, and the emotion that came with that weight…I couldn't contain it."
Within two years of bringing home the gold from Nagano, USA Hockey's female registrations increased 50 percent and all-female teams increased 40 percent. There were 28,346 women registered with USA Hockey before the Olympics in 1998. The popularity of the sport has continued to grow – 74,832 women signed up to hit the rink for the 2016-2017 season.
The 2018 Team USA captain Meghan Duggan was 11 when she watched the thrilling 1998 victory: "From that moment forward I said I want to play for that team, I want to represent my country… I want to do this and I will do this." Twenty years later, Duggan and her fellow teammates have their sights set on defeating their long-standing rival, Canada, at the 2018 PyeongChang Winter Olympic Games.