On April 4, 1928, Maya Angelou was born in St. Louis, MO. After overcoming many personal tragedies, she emerged as one of the most influential voices of the 20th century. A survivor, dancer, bestselling writer and poet, civil rights activist, mentor to Oprah Winfrey and Alicia Keys, and the Godmother of American Hip-Hop, Angelou assumed many roles in her lifetime. Four years after her death, Angelou's authentic eloquence continues to inspire the world.
After her parents divorced when she was three years old, Angelou was mostly raised in Stamps, AR. Growing up in the segregated South as an impoverished African-American young girl was challenging. At age seven she was raped by her mother's boyfriend, and after she told her uncles about the attack, they murdered her assailant. Traumatized by the event, Angelou became a mute, not speaking for years after the incident.
In 1940, she moved to San Francisco to study dance. However, she ended up taking a more unconventional route to her performing arts career. She dropped out of dance school at age 14, eventually becoming the first African-American female streetcar driver in San Francisco. After having a son at age 16, Angelou moved to San Diego, where she picked up a series of odd jobs to make ends meet. A professional dance troupe discovered Angelou's talent when they saw her dancing at a nightclub. In the mid-1950s, she toured the world performing in "Porgy and Bess," which launched her career as a dancer.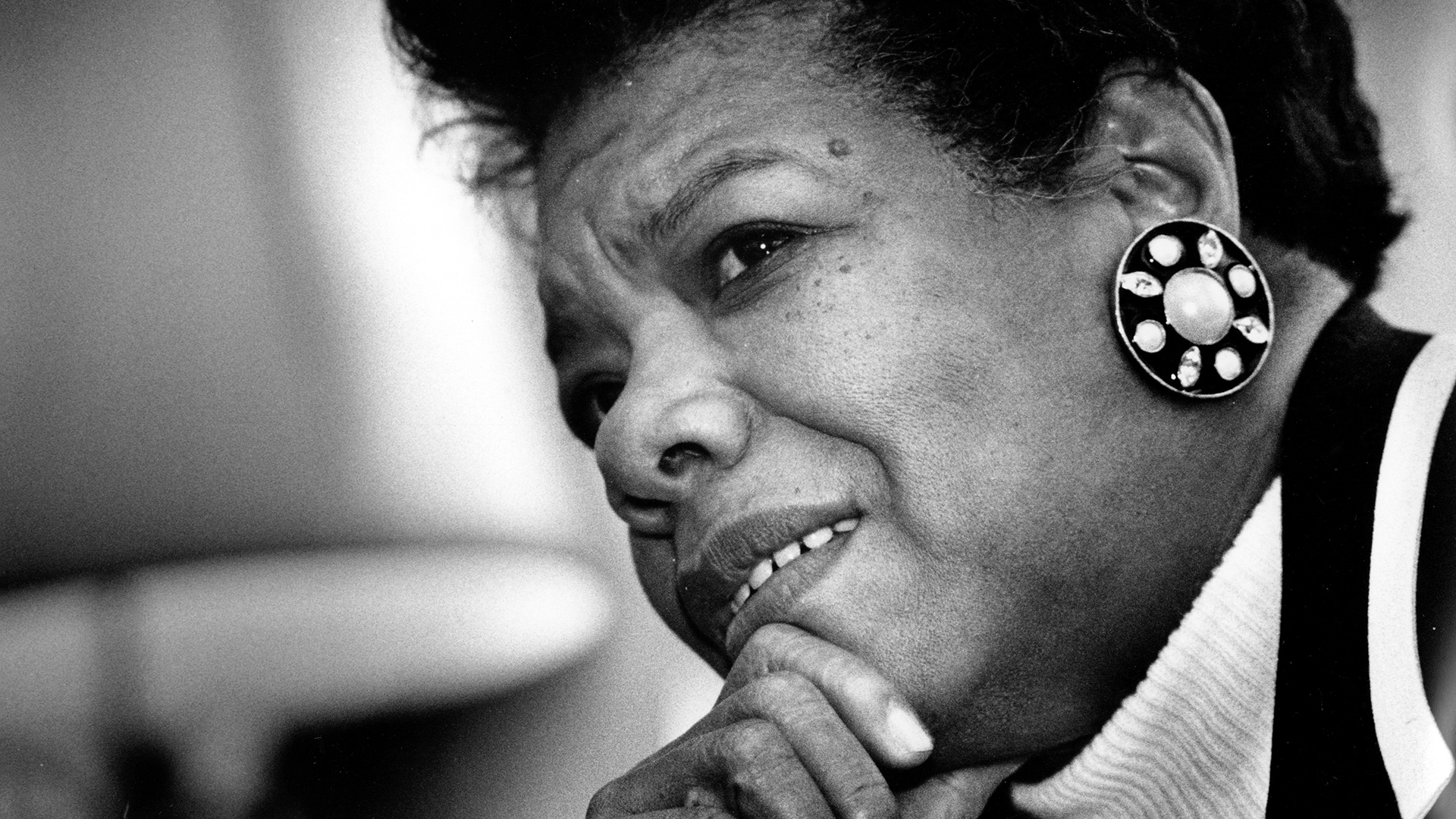 Photo: Dudley M. Brooks/The Washington Post via Getty Images
In 1959, Angelou moved to New York City, where she emerged as an important civil rights activist. She joined the Harlem Writers Guild and became the northern coordinator for Dr. Martin Luther King Jr.'s Southern Christian Leadership Conference. Her passion for activism was further ignited after living in Africa through the early 1960s. In Ghana, she met Malcolm X and moved back to the United States in 1965 to help him
set up the Organization of African-American Unity. After Malcolm X was assassinated, she joined forces again with Dr. King to support his 1968 Poor People's Campaign. When King was assassinated on Angelou's 40th birthday in 1968, she was devastated. She refused to celebrate her birthday for many years to follow and instead sent flowers to Dr. King's widow, Coretta Scott King, for the next 30 years. However, Dr. King's death also inspired Angelou to put pen to paper and start writing her life story.
Her 1969 memoir, "I Know Why The Caged Bird Sings," became the first nonfiction best-seller by an African-American woman. In the 1970s, she started penning her eloquent and deeply moving poetry, including "Still I Rise," "Phenomenal Woman" and "When I Think of Myself." Her ability to communicate her personal growth, as well as the universal African-American struggle, has made her books and poetry an integral part of the American literary canon.
Angelou once shared, "My mission in life is not merely to survive, but to thrive; and to do so with some passion, some compassion, some humor, and some style." Although she died four years ago, Angelou undeniably transcended her goal as she continues to inspire activists, artists and anyone looking to find their own voice.