On April 26, 1969, March Fong Eu smashed a porcelain toilet with a sledgehammer on the steps of the California state capitol building. The pioneering politician was protesting pay toilets in public buildings because women were disproportionately being taxed more than men. In 1974, after her tireless campaigning, California finally banned pay toilets. Today, the current iteration of the pay toilet protest is the fight against the "pink tax." Whether it is razors, dry cleaning or personal hygiene products, women pay more for gender-specific products than men. Many activist groups and individuals are working to change this gender inequity in the marketplace.
Born in Oakdale, CA in 1922, Eu would later tell constituents that she was "born behind a Chinese laundry." As a young girl, she had big dreams, but little encouragement from her guidance counselor or her parents. A straight-A student, her career goal of becoming a teacher was shot down by her counselor, who told her that no one would hire a Chinese woman. She refused to let anyone deter her from her goals. Eu went on to receive her bachelor's degree from UC Berkeley, a master's from Mills College and a doctorate in education from Stanford University.
After receiving three degrees, she worked for years as a dental hygienist and also spent three terms on the Alameda County Board of Education. Then, in 1966, she won a seat in the California State Assembly, representing a district that included Oakland and Castro Valley. She was one of only three women in the legislature at the time and the first Chinese American to hold a constitutional office in California.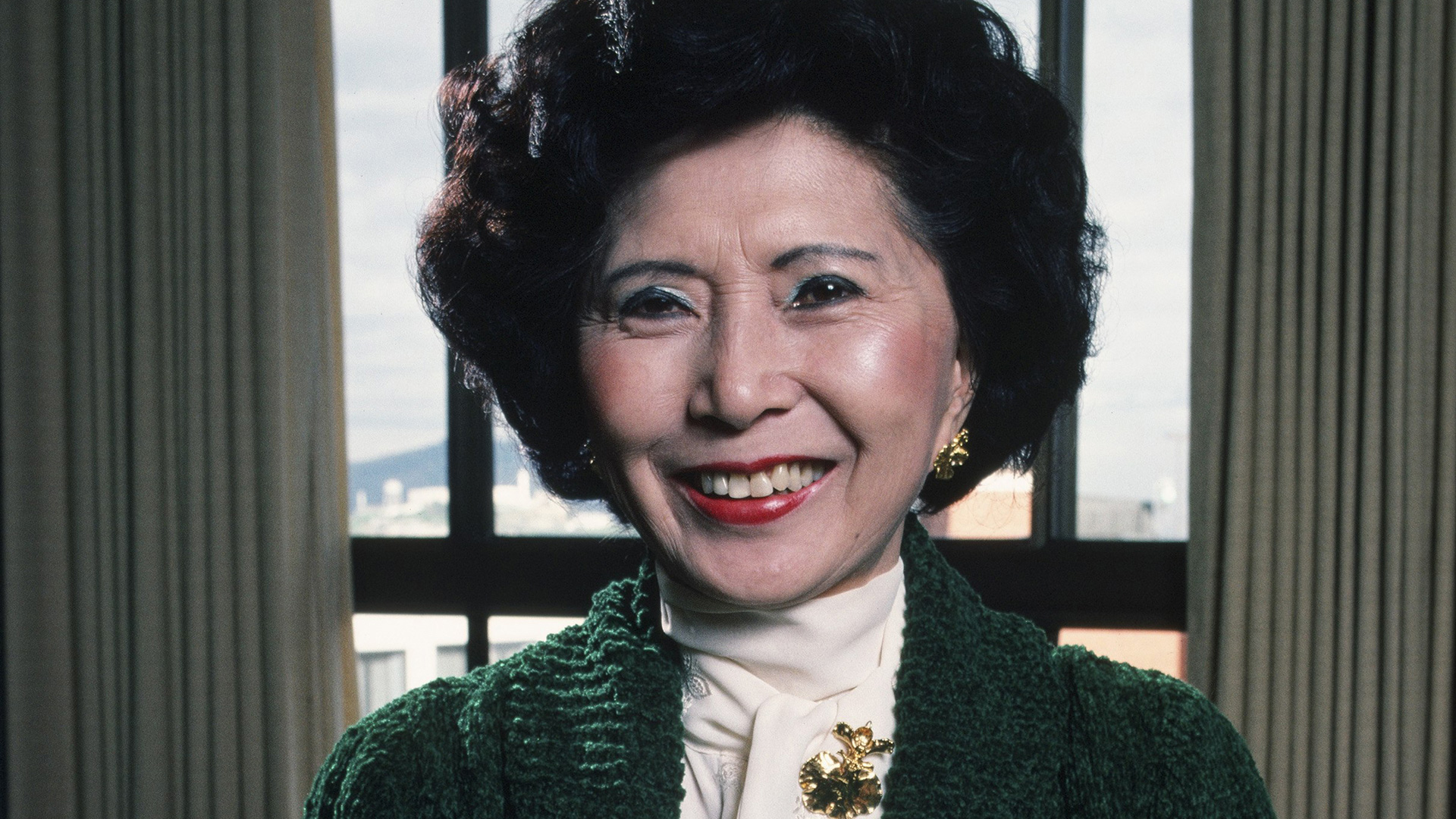 Photo: George Rose/Getty Images
From the start of her tenure as an assemblywoman, Eu fought for gender fairness. Her signature issue was attaining a statewide ban on pay toilets in public buildings. She argued that the tax was unfair to women because men typically had free access to urinals. To draw attention to her point, she famously took a sledgehammer to a porcelain toilet wrapped in heavy chains on the steps of the California state capitol building. Her campaign led to a 1974 state law, banning pay toilets in government-funded buildings.
After serving four terms in the State Assembly, in 1974 she was elected as the Secretary of State of California. She became the first Asian American woman ever elected to a state constitutional office in the United States. During her near-twenty-year tenure in that position, she continued her fight for all kinds of equity in the state of California. She instituted voter registration by mail and got legislation passed that allowed California state voters to register at the DMV, as well as other state agencies.
Eu passed away in December 2017. Although she never considered herself a feminist, she made it her life's mission to fight for gender equity. Her legacy lives on as women continue to fight against restrictions, and other economic factors, that hold them back in society.