Kim Fields of 'You Light Up My Christmas' on the Power of Connection and Igniting Your Inner Light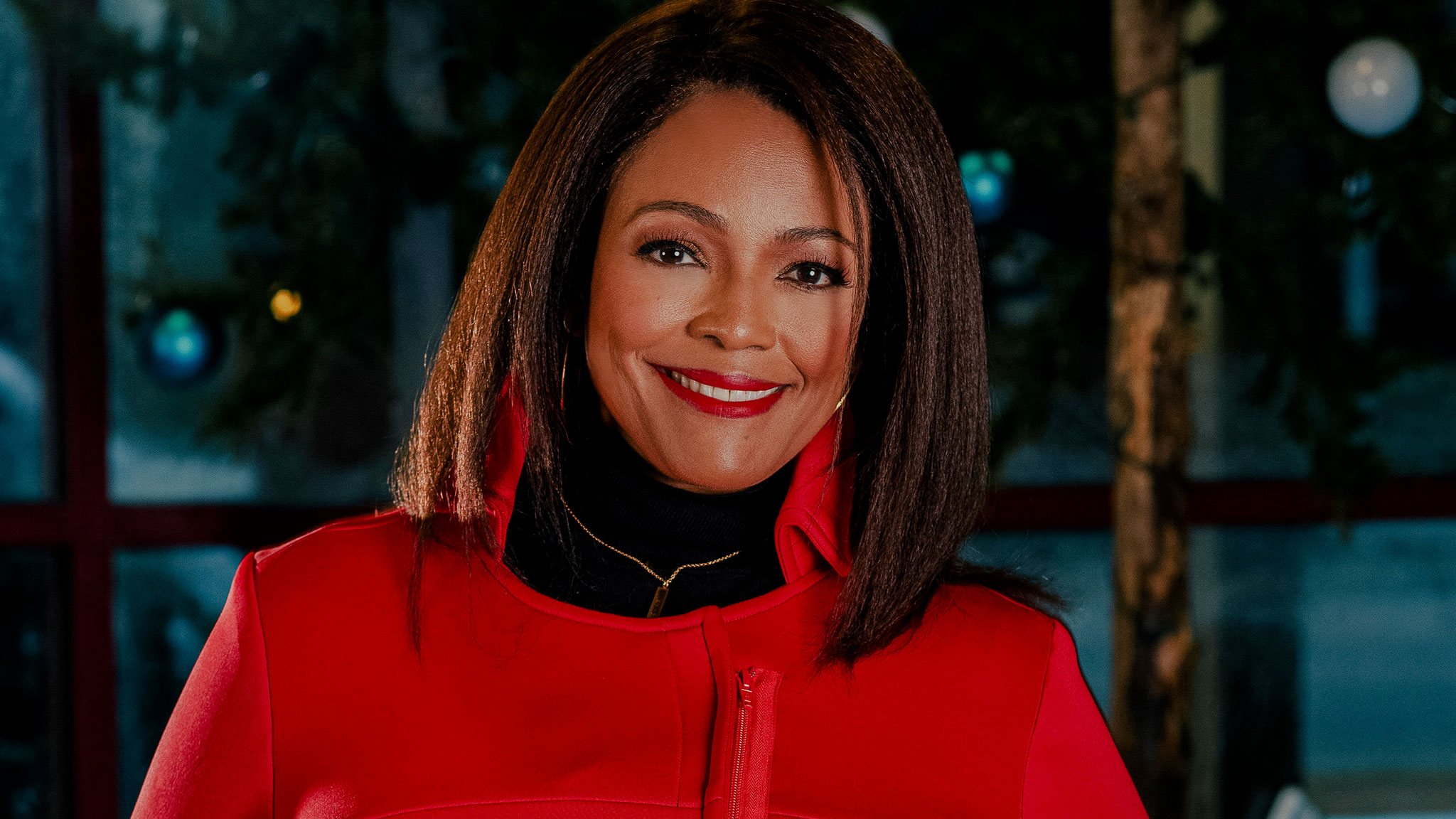 By Kristin Granero
Actress Kim Fields reunites with the cast of "The Facts of Life" in her new Lifetime holiday movie "You Light Up My Christmas". Fields spoke with MyLifetime.com about her favorite holiday traditions and the importance of remembering your inner light.
Your character (Emma Simmons) seems to be at a turning point in her life when she decides to go back to her old town to try to sell her family home. Can you explain what she's feeling at that time?
Initially, Emma is feeling detached from her family home and her hometown, and believes selling her family home will be like selling any other home, like she has for years as a successful realtor. Of course, that slowly changes when she stays in her family's home and memories come rushing back, encountering what she realizes is her beloved town and the people who are there.
To add to the emotions she's going through back in Cherry Creek, she's reunited with her old boyfriend from high school Ben (Adrian Holmes). Do you think she's surprised to find how many unresolved feelings are still there?
Emma is very surprised to learn there are buried–and even new– feelings that she and Ben have for each other. The history they have feels like unfinished business and when they reconnect, they realize the connection was never lost.
Ben teases Emma about her former habit of carrying syrup in her backpack to sweeten her coffee. What are some sweet treats you personally can't live without?
Eggnog, cookies and ice cream!
Ben helps Emma with making the house feel toasty so it's more attractive to potential buyers. What are some things you do to make your own house feel like home?
I always start with family photographs and small touches, like a throw blanket or accent pieces (I love trunks as side tables) to make our house a home. I also try to have candles in our favorite scents. I love stimulating the senses to invite all the feelings of home, especially when coming home from travel after long periods for work!
Emma reminisces with Ben about some of her late father's favorite holiday traditions, such as drinking hot cocoa and singing 'Deck the Halls.' What are some of your own holiday traditions?
Making my famous hot cocoa in holiday pjs and playing Christmas music. The Temptations, Boyz II Men and Pentatonix are always in rotation, as well as a holiday album [my husband, Christopher Morgan, and I] produced titled 'Holiday Love.'
Ben also joins Emma in baking (or at least eating) her mom's signature sugar cookies. Are there any special holiday recipes that have been passed down in your family?
Getting ham and turkey! Okay, so not technically a recipe but instructions for yumminess! And my mom's sweet potatoes.
At one point, Emma begrudgingly accepts a fruitcake from her neighbor Dusty. Are there any holiday staples that you just can't get into?
Like Emma (and Ben), fruitcake... sorry, but nope.
Emma and her friend Lily (Christina Sicoli) share a heartfelt moment where they talk about how they're always able to pick up right where they left off whenever they're together. Can you talk a little bit about what makes their friendship so special?
Emma and Lily genuinely have a great time together. They are free to be themselves, no airs, not trying... just being. They also cherish the history they have together from childhood. One thing I loved about them hanging out is they never give each other a hard time about not calling, visiting, staying in touch—they make it easy to love each other and be friends no matter what. It's like they have an unspoken understanding: 'Life and things in it can be so hard at times. Let's not make our friendship one of them.'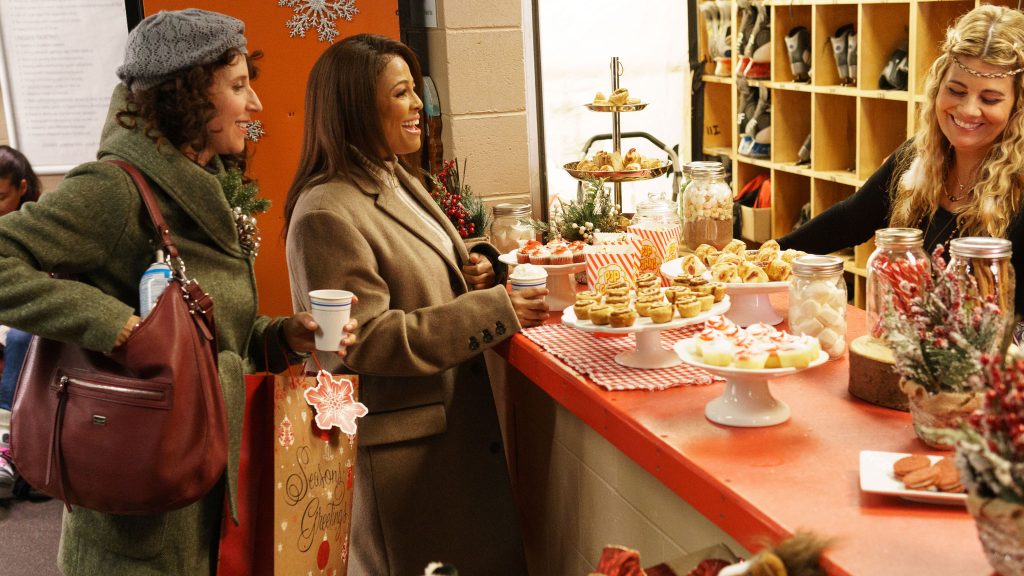 Do you have a 'Lily' in your life?
I'm blessed to have a small handful of Lilys in my life. We have so much love and respect for each other and lots of fun. We have each other's back no matter what and the quantity of time together isn't nearly as important as the quality. I think the core of any great and lasting friendship is that it's unconditional.
When Emma's feeling down, Lily takes her ice skating to cheer her up. What activities do you personally partake in when you need to lift your, or a friend's, spirits?
I go for walks, read a book or watch a movie. I also have dear family and friends with whom I can talk and vent, and know my feelings are in a safe environment. If I need a quick fix, so to speak, I'll take deep breaths, close my eyes and remind myself who loves me and that God's got my back and has everything under control. When my friends need me to lift their spirits, I first try to simply listen and see or ask what they need from me. Then I remind them how amazing they are and how much they are loved.
Emma sets her heart on giving the town an annual tree lighting like they've never seen. Can you explain why this is so important to her?
Owning a Christmas light factory for generations, she has seen the effects and the magic of light and being able to parallel it in to each person's inner light. [She] believes we all need to shine a little brighter from our joy. Yet the town (and even Emma) hasn't been feeling much real joy. Coming together and re-establishing their traditions restores their joy, reigniting their dim—yet not extinguished—inner light and making it shine brighter.
What's the most extravagant thing you've ever done in the name of the holidays?
Haven't done it yet. Holla back next year!
What's one thing you hope everyone takes away from this feel-good film?
Emma really sums it up for me at the end: Numb isn't the new joy. Remember your inner light and that, even if it's dim because of life, circumstances, loss, heartache or social media, dim light is still light. Share it with others to create a little more light, a little more brilliance.