Melissa Joan Hart on Her Connection with Horses and the Story Behind Making 'Mistletoe in Montana'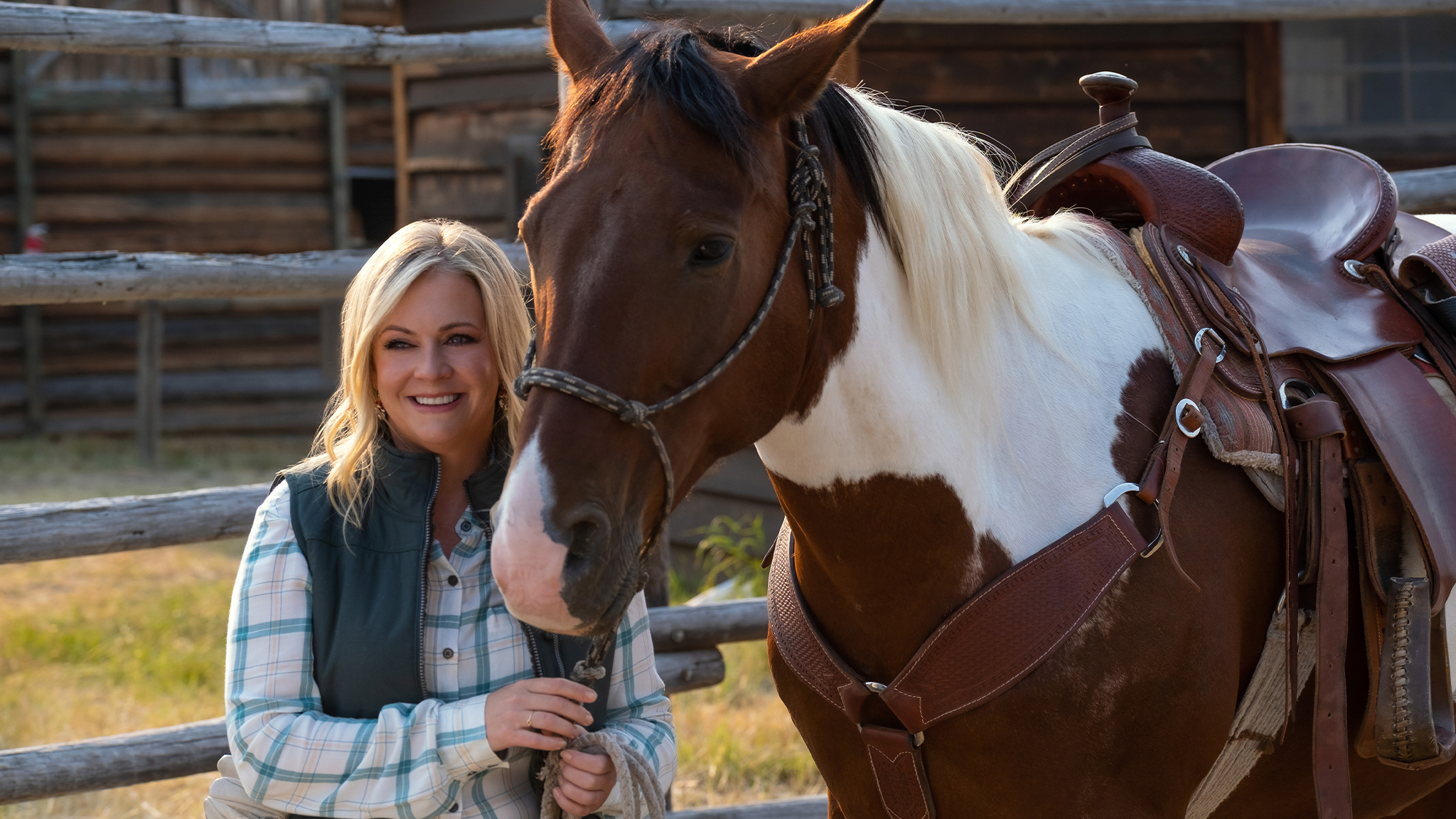 By: Thad Morgan
If there's one thing you can count on every year during It's A Wonderful Lifetime, it's a full slate of holiday movies featuring star-studded casts. This year is no exception, with Melissa Joan Hart taking center stage for Mistletoe in Montana, premiering Friday, December 17 at 8/7c. The movie co-stars Duane Henry and Jamey Sheridan.
We sat down with the Lifetime movie vet to talk about her recent stint on Celebrity Wheel of Fortune, the inspiration behind her movie and the uncanny connection that she had with the animals on set.
Congratulations on your Celebrity Wheel of Fortune run! You won a million dollars. Very exciting!
It's a super fun thing to be known for now. I was on the football field at my son's game and someone stepped next to me and goes, 'So, bran muffins, huh?' [The answer to the bonus puzzle.] It's a fun little thing to be known for. It's just totally different for me, and makes me smile.
Speaking of bran muffins, is there any food that is your favorite to make for the holidays?
I'm not much of a cook, but I love to bake. And I always have to make Christmas cookies — just butter cookies [made] with the little cookie [press] machine. But the one thing I always have to have for Thanksgiving and Christmas is a French silk pie that was my grandma's recipe. Even if you find something called a French silk pie, it won't be the same thing. It is just heaven on Earth.
What are the ingredients? Is it a special recipe?
I can't tell you, it's a secret.
In Mistletoe in Montana, your character is a bonafide cowgirl, very Southern and very in tune with animals. How was it working on a ranch with horses?
It was interesting. My mom is president of our company, Heartbreak Films, so we were inspired [to make this movie] because of my cousin's love story.
She went to a ranch and she fell in love with a wrangler. Some of the details in our movie are based on her real life, or my real life at her wedding. My son didn't have cowboy boots so we had to go to the shed. They took us to this shed and we tried on some great cowboy boots and he kept them, and things like that. It was really fun to be able to recreate that kind of stuff. My cousin already has her screening party with her friends [planned] because she knows it's loosely based on her love story.
We were actually on a trail ride at her wedding and I said, 'This would be a fantastic place to shoot a Christmas movie.' And she was like, 'Well, would you want to be the wrangler or the guest?' And I said, 'Well, I really want to learn to ride a horse for real.' There's something that comes along with acting in a movie, that makes you have to quickly study certain ways of life, right?
I got to really study some cowgirls and cowboys and I watched, and I went to the rodeo and I went and learned how to lasso. The one thing I wanted to study that I didn't get a chance to was how to do archery properly.
The lasso part sounds especially fun.
Yeah. It was awesome. It came a lot easier to me than I thought. The things I was struggling with all came about when I went to the actual rodeo. When I went up to Montana, I went to the rodeo and that gave me a whole new perspective. I was watching the rodeo because I couldn't figure out how to wind up the actual lasso. It was something I wasn't comfortable with and watching them at the rodeo and how they did it, I was like, 'Oh, I see. So it is sort of awkward and weird.' Because I wasn't able to make it feel very smooth, but I realized it's not a smooth thing.
It was fun to be able to study in that way and learn something new. Now I'm obsessed with horseback riding and horses and, especially the horse [on set]. I fell madly in love with that horse, Maverick, who played Thunder. That was just a really fun bonus, to be able to connect with an animal like that, which I've never really done before.
Do you have a special connection with horses?
I do! When I was little, there was one summer that my parents afforded horseback riding lessons for me and I rode a horse named Sprinkles. I think it was third or fourth grade. Through all those years, every time I would sit down to color or draw at school or whatever, I would always draw Sprinkles the horse, which is probably why it's so burned in my memory. I was just kind of obsessed. And then, now it's Maverick. Sprinkles has been replaced with Maverick.
Can you describe your relationship with Maverick? What were the other horses like on set?
There's always been something beautiful to me about riding a horse and western movies and watching how people just become one with the horse, how they're so comfortable on it. Because they're big, strong animals and they can be intimidating, and it's a little scary but I got really comfortable.
This horse was really special. He's really well behaved. We had a bond, but I was very aware of the fact that they read right off of your energy. For example, there was a horse on set. The one that Duane [Henry] rides in the movie. His real name is Cherokee, but [his name is] El Jefe in the movie, and, when Duane would get on the horse, the horse was a little crazy. That horse was not loving Duane on its back. My babysitter got on to ride him and he wasn't loving her. He was really, really difficult and freaking people out, but then my 8-year-old got on his back and he was in love.
In the movie you seem so comfortable around those horses, like you were a professional.
I got really comfortable, but also a little of that was 'fake it until you make it.' With Maverick, I felt very comfortable. There was a time when we were first introducing El Jefe to Duane that the horse kept headbutting me. And finally, he got me with his bridal right in the middle of forehead and I kind of blacked out for a minute.
But I have to say, I did feel pretty confident because of all the riding I had done.
In Mistletoe in Montana, your character, Mary, reunites with Mark after not having seen him since childhood. Do you have any holiday memories where you reunited with family or friends that you haven't seen in years?
Actually, [my family and I] recently got in touch with a cousin of mine that we hadn't seen since he was a little boy. We just reconnected with him. And so, we had been looking forward to someday seeing him person-to-person.
There's something too about this whole COVID situation where we all slowed down and took stock of our lives and figured out what's important. And I think really lovely things have come out of it, and one of them is reuniting with my cousin.
Paradise Ranch seemed like a really great getaway in the movie, a place where people can bond—away from social media and the hustle and bustle of life. Have you and your family ever had an off-the-grid Christmas?
We had an off-the-grid summer, which is where the inspiration [for this movie] came from. When we went to my cousin's wedding, it was actually in Wyoming, not Montana, but that's where the inspiration for the movie came from. We spent a week on a ranch and it was just wonderful, but it was challenging because the kids were freaking out. We were a little freaking out because there was no wifi.
You've become a staple of Lifetime Movies. What sets Mistletoe in Montana apart from the other Lifetime holiday movies you've done?
First of all, the very rural aspect of it all and the use of the horses and the animals. You don't see that in many movies at all, unless it's some kind of big feature Western. What I love about Lifetime is they always allow us to just stretch creatively a little bit more than maybe some other networks might allow with the Christmas movies. To be a little bit funnier, or to have a little more creative license. Also, this movie is special because it's a biracial couple. It's a multiracial film. [Duane] was not expecting that. When Duane came into the story, he said he was looking for who [his character would be] hooking up with. He didn't realize it would be my character. So that was really interesting, to hear someone's take on that, because we hadn't even considered it.