Tia Mowry-Hardrict on the Importance of Family Traditions, Heirlooms and What She Hopes to Pass Down to Her Children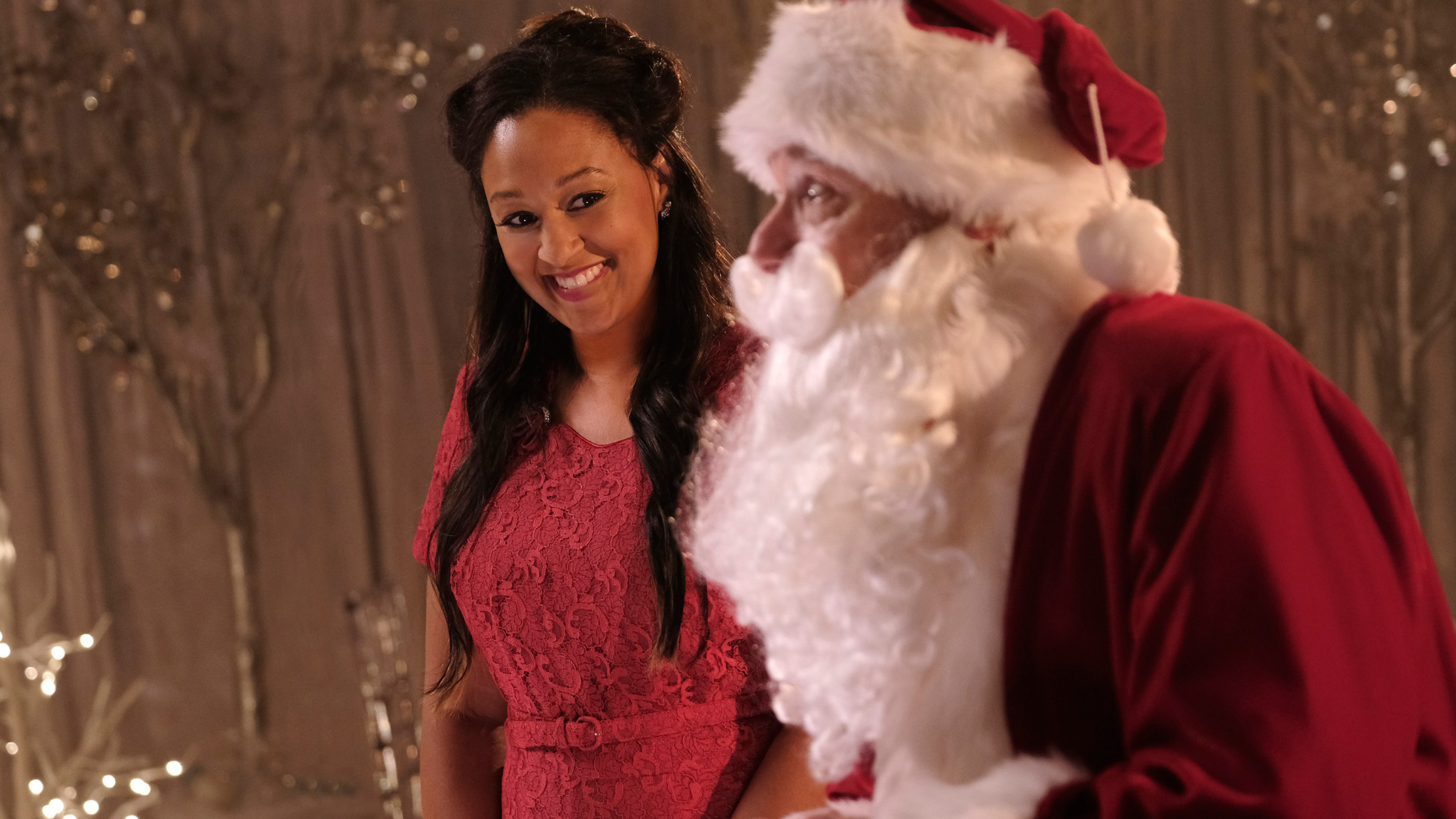 By Kristin Granero
Actress Tia Mowry-Hardrict spoke with MyLifetime.com about her movie "A Very Vintage Christmas", her most valuable belongings and the most precious gift of all.
Tia Mowry-Hardrict will star in Miracle in Motor City on Sunday, November 28 at 8/7c on Lifetime.
This movie centers around some romantic mementos your character Dodie uncovers in a box at her vintage store. Do you have any vintage items that have special meaning to you?
My mom is really into scrapbooking and recently gave me several photo albums spanning from when she was a teenager to her getting married and having kids—including baby photos of us.
Dodie leans on Edward (Jesse Hutch) to help her look for Carl and Ginger, given his knowledge of the town. Do you think she's surprised to find how much she enjoys spending time with him?
Yes, because she's a woman who loves vintage and old things and then meets this guy who is very current and trendy. Off the bat, you wouldn't think they'd have much in common, but that's the cool thing about love—opposites do attract. Even though they have opposite interests, they have an appreciation of real love in common, and that's what draws them together—finding out who this box belongs to. By working together, they fall in love.
One of the things Dodie and Edward find in the box is a movie ticket for 'It's a Wonderful Life,' which they then end up watching together. Are there any black-and-white classics that you watch around the holidays or from time to time?
'It's a Wonderful Life,' for sure. That's a classic right there! I had a lot of fun paying tribute to that movie, because I feel the same way about it in real life.
Dodie explains that what compelled her to go on a scavenger hunt is the idea that everything has a story, a theme that she later incorporates into, and ends up saving, her business. Are there any love stories that stand out to you? Is there anything in your home that has an interesting story?
I love my love story! We didn't focus on societal pressures like money, fame and so on. It was just my husband Cory and me falling in love. That was all that mattered. And my jewelry has a story! I have my wedding band and my engagement ring, but I also wear three rings of diamonds with them, which Cory gave me for a 'push present,' indicating that there were three of us after Cree's birth.
What drew you personally to be part of the story this movie portrays?
I loved how there was a mystery that was the main focus of the film with Christmas in the background. I've done several Christmas movies (this is my fourth) and I loved how it was different in that sense. And in a society that's into new and flashy things, to be able to have a character and a story that values vintage pieces and history is a great lesson.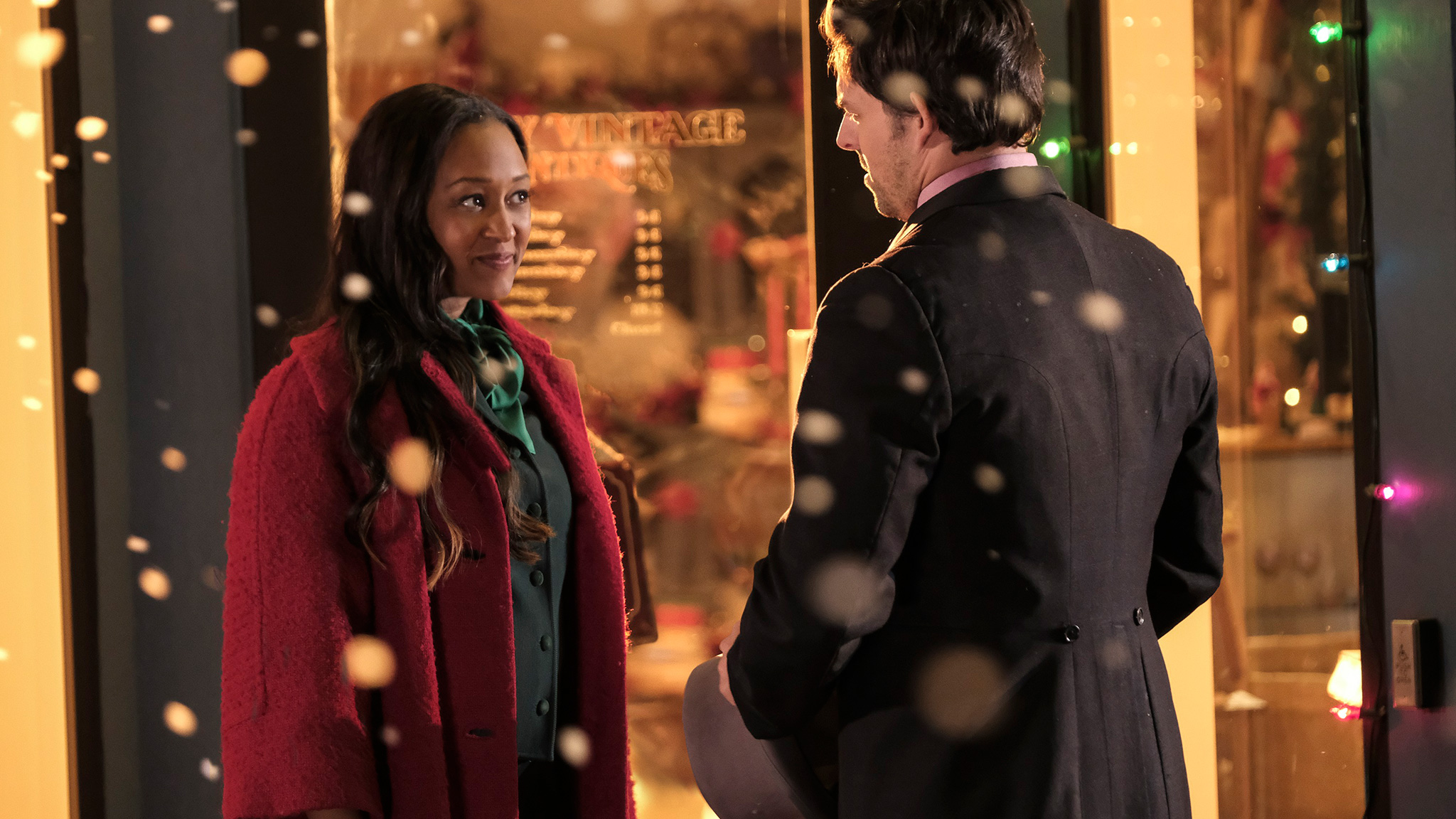 After Edward fixes the leak in the vintage store, he and Dodie engage in a good old-fashioned snowball fight. What are some of your favorite winter activities?
I love going to Disneyland during the holidays. They really go all out with the decorations and food and music. They even change up the rides to cater to every holiday. It's always new and fun.
Dodie relies on her good friend and business partner, Olivia, when she needs someone to listen or share a good laugh. Who is one 'vintage' friend you've come to rely on throughout the years?
Jessica, my best friend. We've known each other since we were 12.
After discovering Carl and Ginger's key opens a post office box with an engagement ring and note inside, Dodie is more determined than ever to find them. Could anything have gotten in her way?
I don't think so. She was very determined. There wasn't ever a point where she wanted to give up. She thought 'maybe I'm crazy,' but always wanted to press forward because she was so passionate about putting meaning to this story and finding out who the people were.
After tracking down Carl and discovering Ginger's real name is Margaret, Dodie realizes that the one who got away is actually Edward's own mother. Can you describe what's going in on her mind at that time?
Excitement, because it's so close to home now!
In the end, Dodie, Edward and Olivia work together to bring Carl and Margaret back together. What was it like shooting such a sentimental scene? Have you ever played matchmaker in real life?
I thought the scene was wonderful. Patricia played it so beautifully. I knew it was great when I read it, but to be able to see her bring it to life was amazing. It was actually one of my favorite scenes because it seemed so real. Everything that was coming out of her mouth really felt like it happened to her. Being on the other side receiving that was a very rewarding moment for me as an actress. And, oh yes, I've always wanted to be a matchmaker, but it never worked! No one let me try.
Edward also has his own surprise for Dodie. What's the best surprise anyone has ever given you?
Cory is really good at surprises. At my baby shower for Cairo, he surprised me with Kenny Lattimore singing the song he sang when we got married. The last time I'd seen him was at our wedding 10 years ago! For Cory to bring him to sing the same song was beautiful.
Cory also recently gave me a bracelet with Cree and Cairo's names on it. I wasn't expecting it and it means so much to me because it was given to me by the love of my life, my husband, the father of my children. To have something so sentimental that I can wear for the rest of my life that's dedicated to my most prized possessions is the most precious gift.
Are there any vintage holiday traditions or recipes that have been passed down in your family?
Collared greens, definitely! My family has been making them for years. My great grandmother made them, my grandmother made them, my mom made them and now I make them. It's a cultural thing too. I'd love to continue to pass the tradition down with my family, and I hope Cree and Cairo do the same thing.