Musical Duo Corbin Bleu and Monique Coleman Reunite for 'A Christmas Dance Reunion'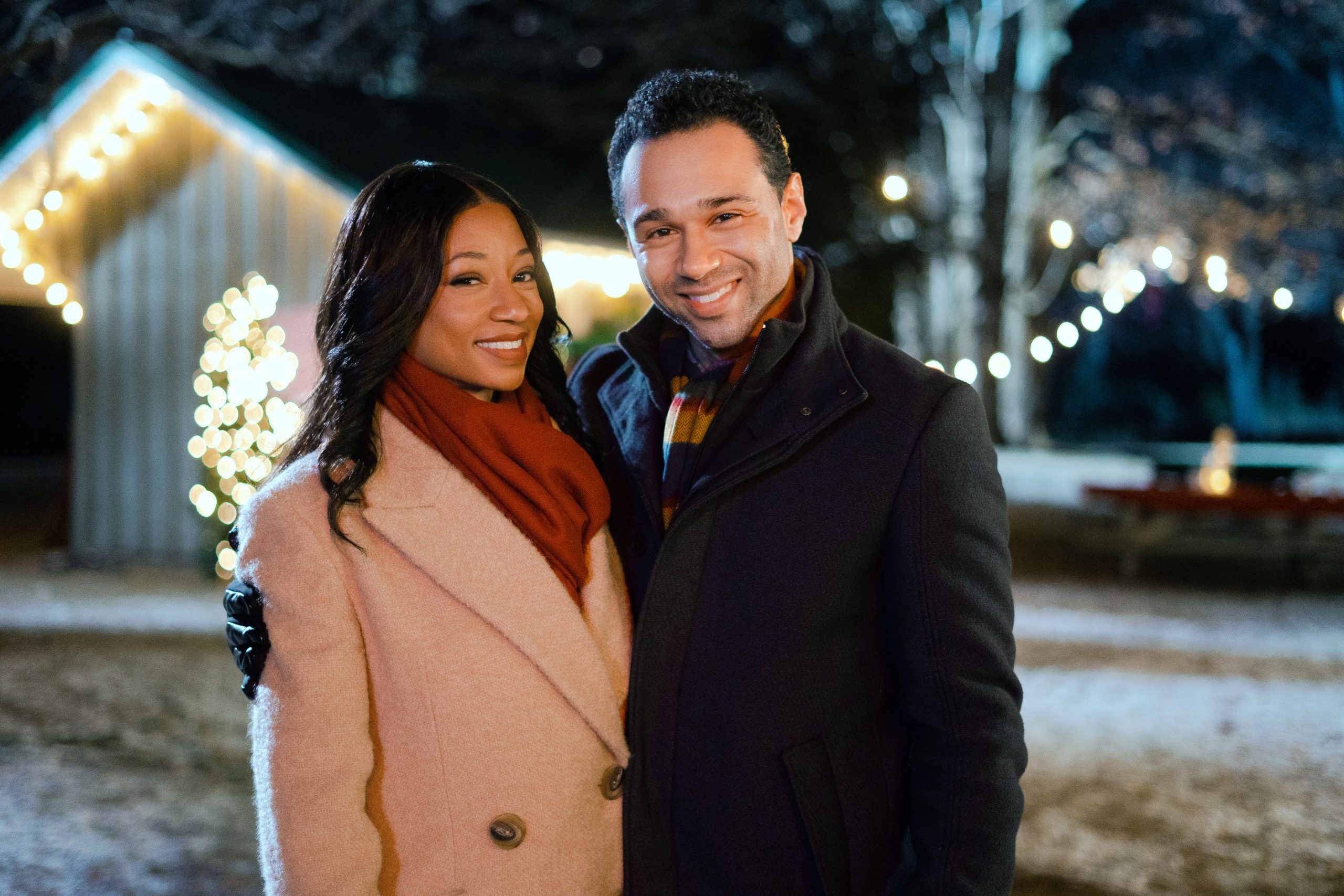 By Robert Kahn
Lifetime's A Christmas Dance Reunion, premiering Friday, December 3 at 8/7c., marks a special reunion for its lead actors, Corbin Bleu and Monique Coleman, who earned legions of fans as love interests Chad and Taylor in the High School Musical franchise, which started more than a decade ago.
The dance reunion at the heart of the holiday movie is an annual tradition at the century-old Winterleigh Resort in the Catskill Mountains, where Barrett Brewster (Bleu) and Lucy Mortimer (Coleman) spent Yuletide seasons of their youth as dance partners for the seasonal performance.
The woodsy vacation spot has fallen on hard times as Lucy, now a successful lawyer, returns, rekindling her friendship with Barrett, whose family business is closing its doors after this last holiday season and the hotel decides to invite old guests back for one last celebration. Co-starring is Canadian actress Sasha Clements, Bleu's real-world wife of five years, as a TV reporter eager to spotlight the Winterleigh's charms.
In the HSM juggernaut, Chad and Tylor never shared an on-screen smooch. As for this time? Bleu and Coleman are ready to kiss-and-tell in this interview with Mylifetime.com.
You've seen each other since the High School Musical movies wrapped, but this is the first time you're both on screen together in 13 years. What's that been like?
Coleman: Magical. Wonderful. The most special part was getting to remember what an incredible work ethic Corbin has and what a supportive partner he is.
Bleu: It's spoiled me. Having a work environment that is this easy and this joyful allows you to do your job in a way that doesn't feel like you're working.
Dancing requires extraordinary trust and focus. Was your history an asset in that sense?
Coleman: One-hundred percent, especially for me. And I only say that because Corbin just has more dance experience. Having a partner that you really can trust allows you to have more freedom—and that freedom allows you to have more fun, and that fun is what I think translates on screen.
Bleu: From a logistical standpoint, when you dance with each other, you're required to touch each other. That, in itself, requires a level of comfort, a level of vulnerability. So when you already have a friendship, you don't have to get past that hurdle.
We're doing lifts, where we have to trust that the other person is going to do what they have to, in order to make sure [the lift is] safe. I trusted Monique. And I know that even if something does go awry, she knows her body well enough to be able to handle it in whatever way it needs to be handled in that moment. And there's just the element of exactly what Mo said: If you can let go and allow the dance to flow freely, that's when the magic happens.
Corbin's wife, Sasha, isn't just part of the story as a TV reporter. Her character also tries to nudge Lucy and Barrett together. Was that fun? Or awkward? Or maybe both?
Coleman: First, thankfully, we are both in very secure marriages. The night before we filmed the couple's first kiss, I was like: 'Hey, Corbin, do you want to get on the phone and just talk through this?' Because it was such a leap. That wasn't a moment in the High School Musical franchise. And so, we were like little kids who had to shake off the giggles and be like: 'OK, come on. We can do this.'
I think it will be a very fulfilling moment for fans who are coming over to Lifetime—to see us as, obviously, as different characters, but to see something that they've always wished for.
Bleu: We talked about it constantly. We still talk about it constantly! It could absolutely be a really awkward scenario, but it wasn't. It was one of the most meta, strange occurrences that can happen on a set. Sasha is my wife, and we have that relationship, but she's also an actress, so she gets it. She knows what it means to have an on-screen romance with another person.
Sasha was egging us on off-screen. We all watched the movie together, and when the first kiss happened, the biggest reaction was from Sasha. It was her excitement at watching the characters reach the height of their relationship.
Barrett brings Lucy to a favorite 'hideaway' room. It's a sweet, snowy sunrise and there are deer outside. He's got a photo there of you both from younger days 'at the resort.' I had a hunch that picture was genuine from your HSM past, doing double-duty here. Was it?
Bleu: Yes … and actually, that photo is one of many that were on set. So in that scene, we really were walking down [our own] memory lane. Mo', correct me if I'm wrong: Is that the one from the parade?
Coleman: One of the photos is from the Macy's Thanksgiving Day Parade. And then another was from a 40-city tour we did [for High School Musical] a good 14 or 15 years ago.
Can you share a little about what your holidays are like now, at home?
Coleman: For me, the holidays haven't been very traditional—particularly since I got married. My husband and I often travel during the holidays, because it's a wonderful time to reconnect. But I will say that after shooting this movie, I want to take up baking. That's something that I'd like to learn, because my grandmother did it.
Bleu: Awwww, Mo … I love that. For me, nothing says Christmas like ricotta balls. That's the dessert that my mom has always made, since I was a kid. She got her recipe from her mother, who got it from her mother. It's ricotta cheese, and then it's deep fried into balls and covered in cinnamon sugar. We always make trays and trays of them, because at this point everybody knows we're doing it and they're like: 'When are you going to make ricotta balls? I need to have a bag.'