On February 1, 1969, Joni Mitchell made her Carnegie Hall debut in New York City. She stepped onto the legendary stage just a year after releasing her self-titled debut album. Shortly after this performance, Mitchell emerged as one the most popular artists of the 1970s. With her achingly beautiful songs, including "Both Sides Now," "Big Yellow Taxi" and "River," Mitchell voices the universal emotions of love, joy and loss. A nine-time Grammy winner, Mitchell is considered one of the greatest songwriters ever and one of the most important recording artists of her generation.
Mitchell was born Roberta Joan Anderson on November 7, 1943, in Fort Macleod, Alberta, Canada. She was raised in Saskatoon, the largest city in the mostly rural province of Saskatchewan. At age 9, she contracted polio, which left her left arm weakened. However, during her convalescence, she started singing in the hospital. Also, during this time, she taught herself how to play guitar using a Pete Seeger songbook.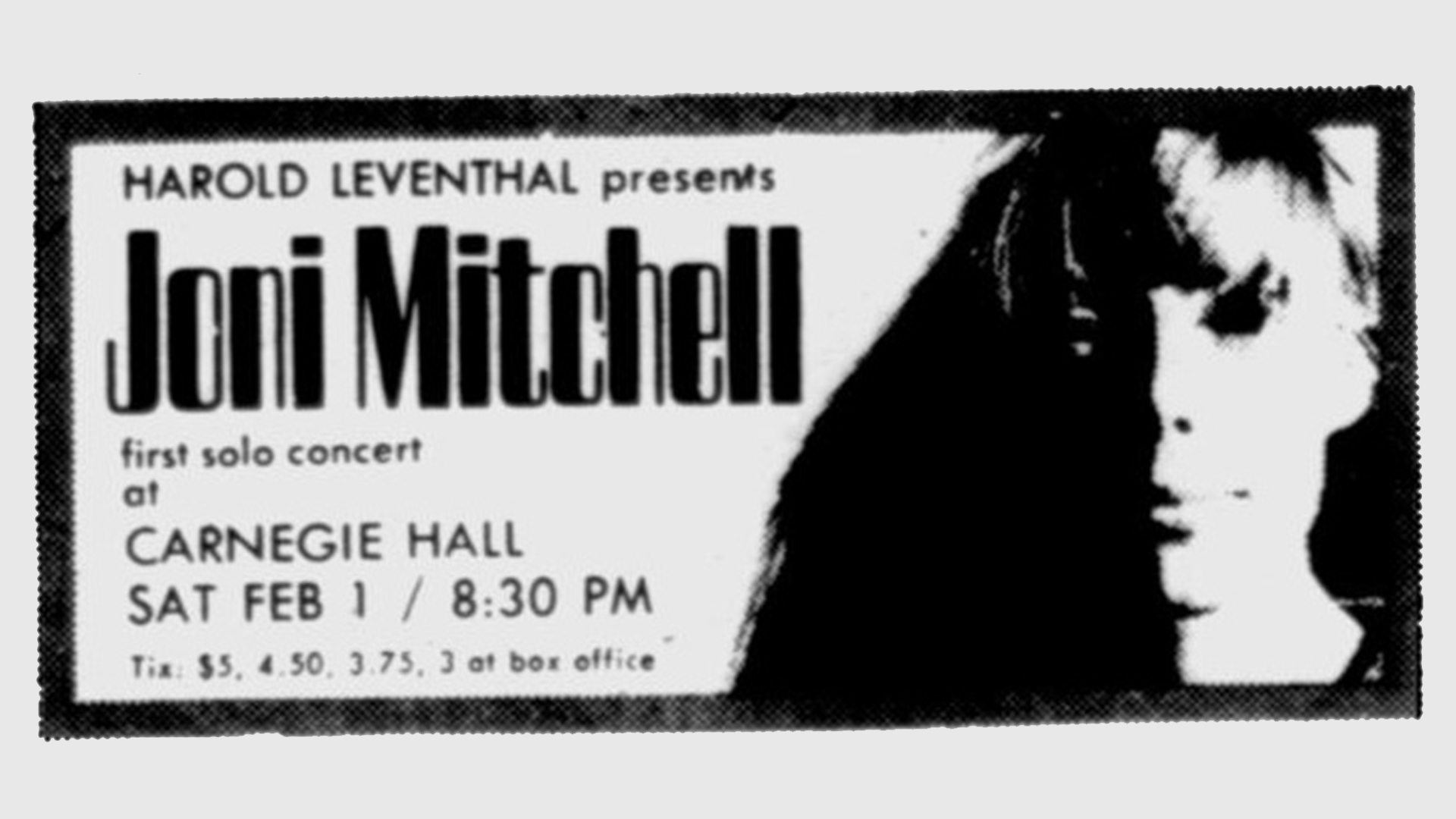 While in college, Mitchell got pregnant. Upon hearing of the pregnancy, her artist boyfriend quickly skipped town. In 1964, it was still taboo to be a single mother. Twenty-one and unwed, Mitchell decided to give her child up for adoption. In order to grapple with her emotional pain, she started to write her difficult feelings into "long tragic songs in a minor key."
By the mid-1960s, she moved to Michigan, where she became a critical sensation in the Detroit club scene. She also met her first husband, Chuck Mitchell, during this time. The newlyweds moved to New York City in 1965 but divorced two years later.
Meanwhile, Mitchell became a fixture in the New York City music scene. In that time, she wrote some of her most famous songs, including "Both Sides Now" and "Chelsea Morning." In 1967, she met and fell in love with rock star David Crosby and the couple moved to Los Angeles. They lived in Laurel Canyon with some of the most famous bohemian musicians of the day, including The Mamas and The Papas and Jackson Browne, with frequent visits from The Beatles and The Rolling Stones. In 1968, while thriving in this hippie music community, she released her first album, "Joni Mitchell."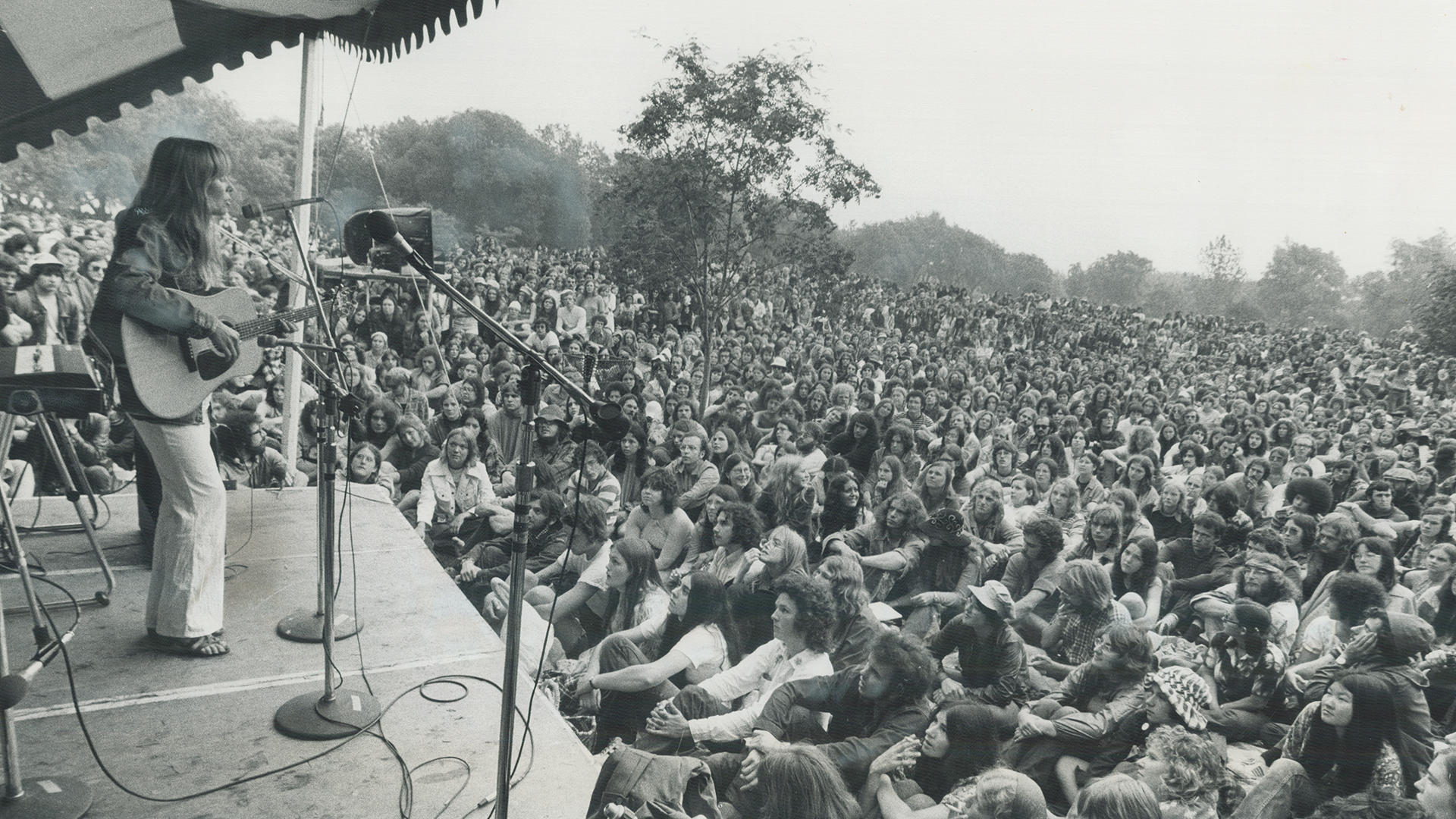 Photo: Mario Geo/Toronto Star via Getty Images
By the time she took the stage for her now-legendary Carnegie Hall performance, Mitchell had moved on to dating Crosby's band member, Graham Nash. Of her performance, Nash said, "The audience at Carnegie Hall was ecstatic that Joni was there. I think it was jammed to the rafters. It was Joni's 'coming out' in a really big way." Before playing the songs that had already made her a rising star, the Canadian folk singer-songwriter said to her audience, "It's a long way from Saskatoon, Saskatchewan, to Carnegie Hall!"
After her Carnegie Hall performance, Mitchell's fame continued to soar. Her second album, "Clouds" (1969) earned Mitchell her first Grammy in 1970. Her third album, "Ladies of the Canyon" (1970) included her now-iconic "Big Yellow Taxi." In total, Mitchell's first six albums sold 4.6 million copies, including the groundbreaking, and deeply personal album, "Blue" (1971), which included two of Mitchell's most popular and emotionally evocative songs, "River" and "A Case of You."
In that time period, performing her emotional music took its toll. In 1972, she left the L.A. music scene and moved to British Columbia. Continuing to develop her sound, in 1974 she released her most successful album of her career to date, "Court and Spark."
Mitchell's gorgeously confessional music continues to move us today. Her ability to weave lyrical imagery to express the emotions of love and loss has inspired many other songwriters over the decades. However, there will only be one Joni Mitchell.