On April 14, 1984, "My Little Pony: Rescue from Midnight Castle" premiered on TV. The movie, about colorful, peace-loving ponies, was inspired by designer Bonnie Zacherle's My Little Pony toy line. The TV movie began the 1980s My Little Pony craze, inspiring
the 1986 TV series "My Little Pony." The current-day iteration, "My Little Pony: Friendship is Magic," appeals to a new generation of young fans. However, the show has also gained a large following of older, male "My Little Pony" enthusiasts, who call themselves "Bronies," and are a subject a fascinating 2012 documentary, "Bronies: The Extremely Unexpected Adult Fans of My Little Pony."
Creator Zacherle majored in illustration at Syracuse University and began her career at Rust Craft Greeting Cards in Dedham, MA. She was hired by Hasbro in 1980 to design toys. As a child, Zacherle always wanted to have a horse. Figuring that she was not the only child coveting a pet pony, she created the toy My Pretty Pony. When she first approached Hasbro with her idea, they were not impressed. Executives told her that little girls weren't like her and they liked to cook, clean and iron. However, through persistence, Hasbro put her toy on the market. The 10-inch tall brown horse figurine with a brushable mane and tail became the precursor to the My Little Pony franchise. In 1982, Hasbro rebranded My Pretty Pony as My Little Pony. Shrunken down to a more manageable size, children of the 1980s couldn't get enough of the pastel-hued ponies.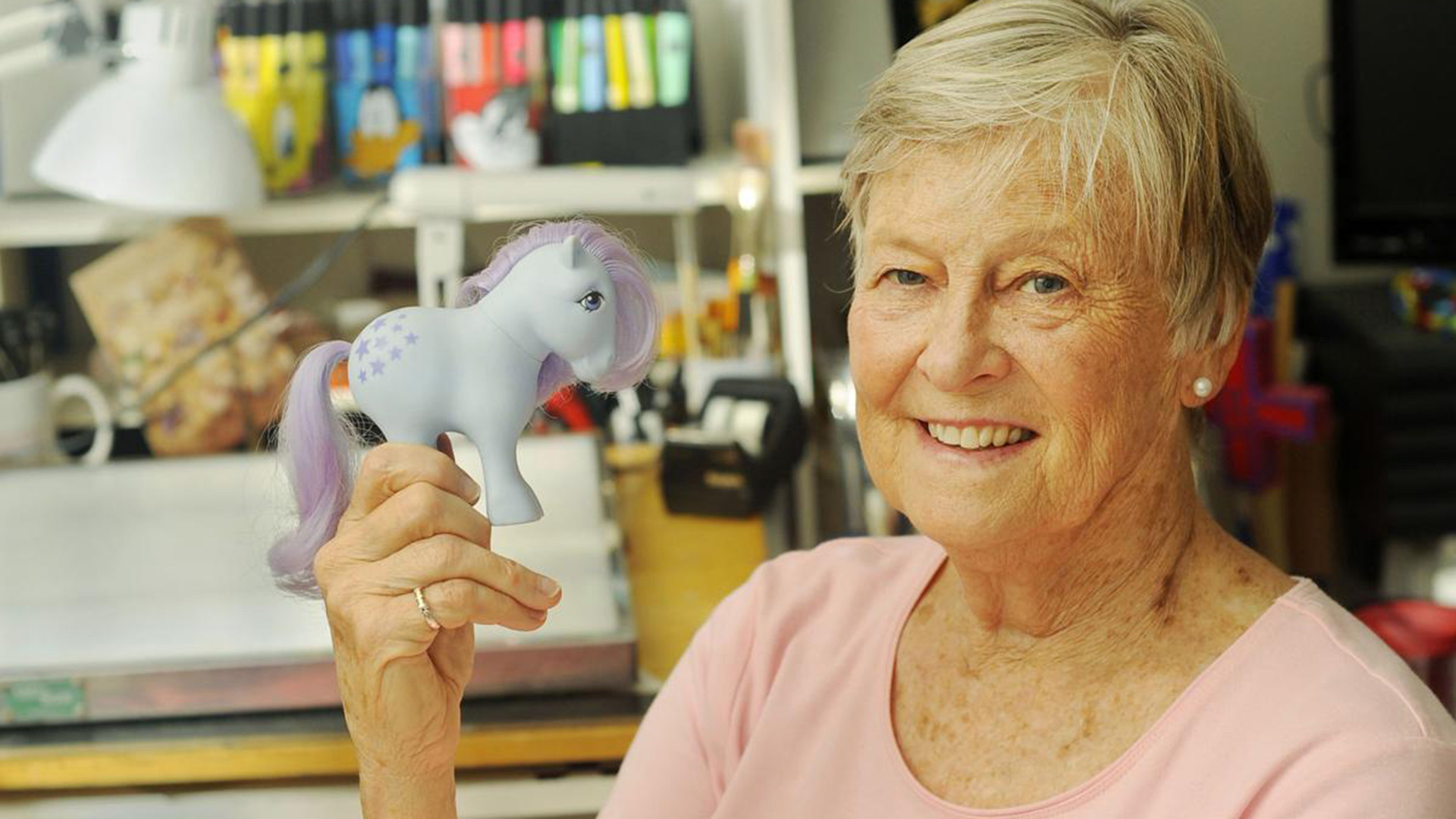 Photo: Fauquier TImes/Randy Litzinger
The 22-minute animated-TV movie, "My Little Pony: Rescue From Midnight Castle," was released as a pilot for a proposed "My Little Pony" TV series. The movie opens with the little ponies living a peaceful existence in Dream Valley. After some ponies are enslaved by monsters at Midnight Castle, Megan, the 12-year-old human protagonist in the TV film, and the other ponies – Firefly, Applejack, Twilight and Bow Tie – set off to rescue them. The original "My Little Pony" TV series (1986-1987) continued the story. The joyful ponies live in Paradise Estate, singing and playing, while also defending themselves against evil witches, trolls and goblins.
In 2010, animator and director Lauren Faust resurrected "My Little Pony" for a new generation of fans. Now in its eighth season, the commercially-successful series, "My Little Pony: Friendship Is Magic," centers around Twilight Sparkle and Princess Celestia. Responding
to the renewed interest in her 1980s creation, Zacherle released a 2016 book, "My Little Pony Tale," chronicling the creation of her beloved ponies. Almost 40 years after Zacherle hatched her My Little Pony precursor, the continuing popularity proves that love for ponies is timeless.