On April 10, 1999, "No Scrubs" by TLC hit No. 1 on the Billboard Hot 100 chart and stayed at the top of the charts for four weeks. Thanks to TLC – Tionne "T-Boz" Watkins, Lisa "Left Eye" Lopes and Rozonda "Chilli" Thomas – we finally had the perfect name for that guy who is "always talkin' about what he wants and just sits on his broke ass." Although "No Scrubs" is considered an anthem against deadbeat men, TLC's signature song is ultimately a song about female self-respect. Today, as we celebrate Equal Pay Day, a day devoted to raising awareness about the gender pay gap, we can also thank TLC for shedding light on the major pay inequities in the music industry.
TLC was formed in Atlanta, GA in 1991. Managed by the singer Pebbles, TLC signed a record deal with L.A. Reid's label, La Face Records that same year. Their first album, "Ooooooohhh… On the TLC Tip" (1992), yielded their first three Top 10 hits "Ain't 2 Proud 2 Beg," "Baby-Baby-Baby" and "What About Your Friends." Their Grammy Award-winning second album, "CrazySexyCool" (1994), was a smash success. Selling more than 10 million copies, it remains the only album by a female group to receive a diamond certification from the Recording Association of America (RIAA). "CrazySexyCool" generated the group's first two No. 1 hits "Creep" and "Waterfalls."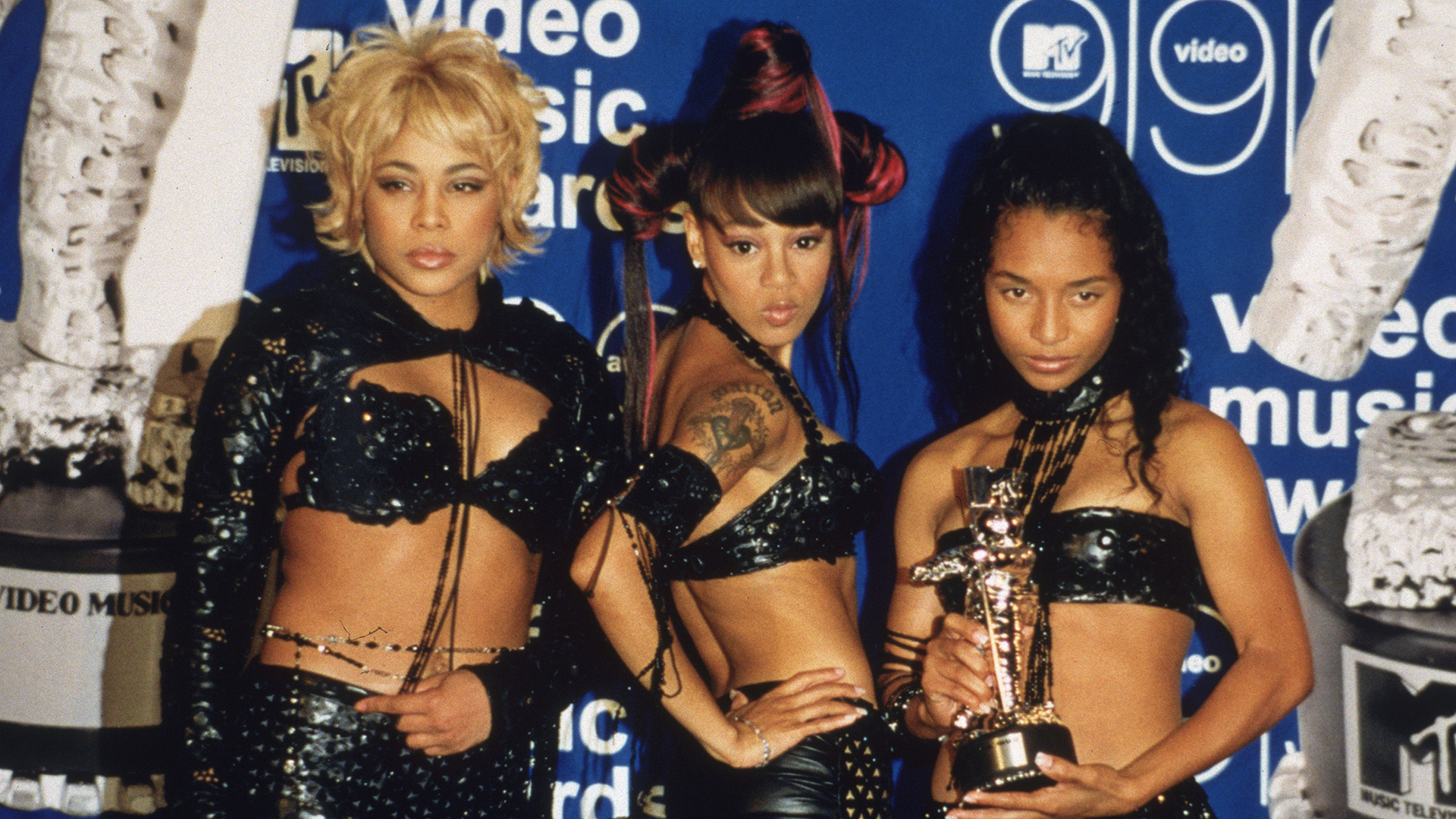 Photo: Karl Feile/Hulton Archive/Getty Images
Between 1995 and 1999, TLC stopped putting out music as a result of various financial and legal troubles. In July of 1995, the group filed for bankruptcy. When they released their comeback album, "FanMail" (1999), it debuted at No. 1 on the album charts. A testament to TLC's popularity, "FanMail" even beat out Eminem's much-anticipated "The Slim Shady LP" for the top spot on the Billboard Hot 200.
The first single from "FanMail," "No Scrubs" stayed at No. 1 for four weeks. According to Billboard, it was also the No. 2 song of 1999. It also earned a Grammy nomination for Record of the Year. Most importantly, women finally had a term to describe all of those catcalling mansplainers in their orbit. There are few sing-along lyrics more gratifying than "So, no. I don't want your number, no. I don't want to give you mine and, no, I don't want to meet you nowhere, no. I don't want none of your time."
The internet was recently abuzz over the striking similarities between Ed Sheeran's "Shape of You" and the 1999 TLC hit. In response, Sheeran added the writers of TLC's "No Scrubs" to the credits. Although "Left Eye" tragically died in a car accident in 2002, T-Boz and Chilli released their fifth and final TLC album, "TLC," in 2017. A testament to TLC's continued popularity, this self-titled album was funded by fans on Kickstarter.